Please note that I may earn a small commission from purchases made through product links in this article. As an Amazon Associate I earn from qualifying purchases.
Last updated: March 21, 2023
Reviews of five of the best croquet sets available today, based on price, materials, size, accessories, and more.
For some people, the idea of a game of croquet brings up images of elegant garden tea parties, big hats, and fancy dresses. But don't worry, croquet can today be played in the backyard in denim shorts and t-shirts.
As a fanatic croquet enthusiast, I've taken the liberty of reviewing five of the best croquet sets for backyard and lawn play. These are sets that are made specifically for the 9-wicket variant of croquet.
If you're still a bit new to this game, check out my guide to playing croquet with a detailed outline of the rules and field setup.
6 balls (3 inches diameter)
6 balls (3 inches diameter)
Top Pick
6 balls (3 inches diameter)
Second Choice
6 balls (3 inches diameter)
Top 5 Croquet Sets:
Playing a game of croquet is lots of fun, so hopefully, this practical croquet sets buying guide will help you select the best one.
Note that the ones listed here are standard croquet sets that are good quality, affordable sets suitable for backyard play. Professional croquet sets, however, can easily be over a thousand dollars.
1. GoSports 6-Player Croquet Set

One of the most popular croquet sets you'll find online is this GoSports 6-player croquet set, which comes with a handy canvas carrying case. Boasting premium hardwood craftsmanship, this sleek set is available in two different versions: standard and deluxe.
The standard set includes six 28-inch, single-piece mallets, six balls (green, blue, purple, orange, red, and yellow), nine wickets, two end posts, and a set of rules. The rules include different variations on the game, so have fun changing it up as you get more experienced.
The deluxe set includes the same number of pieces and the rule guide, but it features 35-inch mallet handles to accommodate more experienced players. Each of these handles features a wrapped grip for extra comfort.
Overall, this croquet tops our list as it offers the perfect balance between price and quality. And with the extra carrying bag and rules guide, you can start playing in your backyard tomorrow.
2. Ropoda 6-Player Croquet Set

This Ropoda set includes the standard six handles, six mallet heads, two end stakes, and nine steel wickets; essentially everything you need for a good game of backyard croquet.
This is another set where the mallet handles and heads are separate pieces but can easily be screwed together within seconds. The mallets are made from high-quality, premium hardwood, and the six balls are made from crack-resistant resin so that they stay in great shape and continue to look like new for as long as possible.
Also included is a durable nylon carrying bag with zippered closure for easy storage and transport. It's worth mentioning that the manufacturer considers customer satisfaction as their top priority. They stand behind their product so much that they encourage customers to reach out to them should there ever be a problem.
3. Juegoal 6-Player Hardwood Croquet Set

This Juegoal set includes six mallet handles that are 29 inches in length and six detachable mallet heads with caps for extra protection and durability. The handles and heads screw together easily so you can be ready to play in seconds.
Also included are two hardwood center stakes that are 18 inches long, six weather-resistant croquet balls that come in purple, green, yellow, orange, red, and blue, and nine steel wickets with a vinyl coating for protection from the elements.
Additionally, included in this set is a handy drawstring bag for storing your game equipment. This bag is big enough to hold all 29 pieces of equipment at once without taking the mallet heads off the handles.
4. Amish Crafted Deluxe 8-Player Croquet Game Set

The fourth set on this list is one of the more expensive sets on the market, but that investment will be worth it if you're going to be playing regularly. This eight-player set is Amish-made, which should give you an idea about its superior craftsmanship and quality.
Included are eight wooden balls, eight wooden mallets, nine steel wickets, and two wooden end posts. Also included are a booklet of rules and a beautifully made wooden storage rack that holds every piece in place.
This particular set doesn't come with a carrying bag, so it may not be as mobile as some of its counterparts on this list. But you may certainly be the envy of everyone who comes to play with you when they see the fine craftsmanship and top-of-the-line quality.
5. Crown Sporting Goods Vintage Croquet Set

The final croquet set on our list might transport you back in time to when the game was still called "crooky" in other parts of the world. This gorgeous vintage-looking set is an all-wood classic made to last forever. It's luxuriously hand-painted and finished with a dark stain polish to make it look like an old family heirloom, even though the set is, of course, brand new.
It features extra-long mallets, measuring in at a whopping 38 inches. The balls, also made from wood, are crafted specially to be able to withstand hard strikes. The steel wickets are also incredibly strong and will last for as long as you have the set.
Also included with this croquet set is a stylish, cushioned canvas bag with durable straps. It can be taken anywhere with ease without causing any wear and tear to the contents of the bag.
If you enjoy playing croquet as much as I do, check out my
list of best backyard games
for more ideas for outdoor entertainment with family and friends.
Let's have a look at the origins of croquet, how to play this fantastic game, and what to look out for when buying a new croquet set.
What to Look For in a Croquet Set
It has to include the required mallets, balls, wickets, and center pegs. The average backyard set needs to include six mallets, six balls, two stakes (pegs), and nine wickets. The mallets and balls need to be in 6 different colors.
Besides the required pieces, it is also important to make sure you look for a good quality set. Look for a croquet set that uses strong wood materials to be sure you purchase a set that should last a few years. It might also be worthwhile to look for a company that stands behind its products and takes pride in its workmanship.
1. Mallets:
You will find that most croquet sets have wooden mallets to recreate that typical vintage croquet vibe. Some are made with hardwood, which is most durable; others are made with natural wood, which is typically a bit lighter.
Mallets can be between 26 to 35 inches and can weigh anywhere between two and three pounds. Note that sometimes the heads are referred to as the mallets, but I am referring to mallets as both the handle and the head.
2. Balls:
A backyard croquet set comes with six balls. The balls have a diameter ranging from 3 to 3.6 inches and can weigh up to 16 ounces. The mallets and balls have matching colors, so each player plays with one mallet and one ball of the same color.
Some sets offer classic wooden balls, which some may prefer but are not required. Hard plastic or resin balls work well, too, depending on how serious you want to be.
3. Wickets:
The wickets can also be quite different per croquet set. Some sets include steel wickets with vinyl coating, while others have hard plastic wickets. The thickness of the wickets can also vary a lot, and it's best to compare.
4. Accessories:
Some croquet sets come with accessories such as carrying bags and instruction books. Both are pretty important, as the carrying bag can be used for easy transport and storage. Instructions are helpful, too, if you've never played before or want to brush up on your knowledge quickly.
Which croquet set you choose will ultimately depend on how much money you want to spend, how serious you want to be (casual backyard play or regulation play), where you're going to play (backyard or park), and who is going to play (adults and/or kids).
History
It is believed that the foundation of croquet is based on a similar game by French peasants in the 1400s using makeshift mallets to hit a ball through hoops made of tree branches.
The first time the game that resembled modern-day croquet as we know it was played was in 1852. It made its way to England via Ireland, where the Irish had played their own version of the game since the 1830s.

It was called "crooky" in England, and when an English manufacturer of sporting goods began selling sets for people to play with, croquet became hugely popular as an activity for the British leisure class to enjoy.
The man who began mass-producing these croquet sets was named John Jacques, and his name still appears on a brand of croquet equipment to this day, John Jaques and Son.
How to Play Croquet
You don't have to be athletic to enjoy a game of croquet, and it's very easy to pick up. A game set contains six balls and mallets, nine hoops called wickets, and two marker poles called stakes.
Croquet can be played in different ways, but for backyard play, the 9-wicket version is the most common. In that version, the field is set up as per the below image: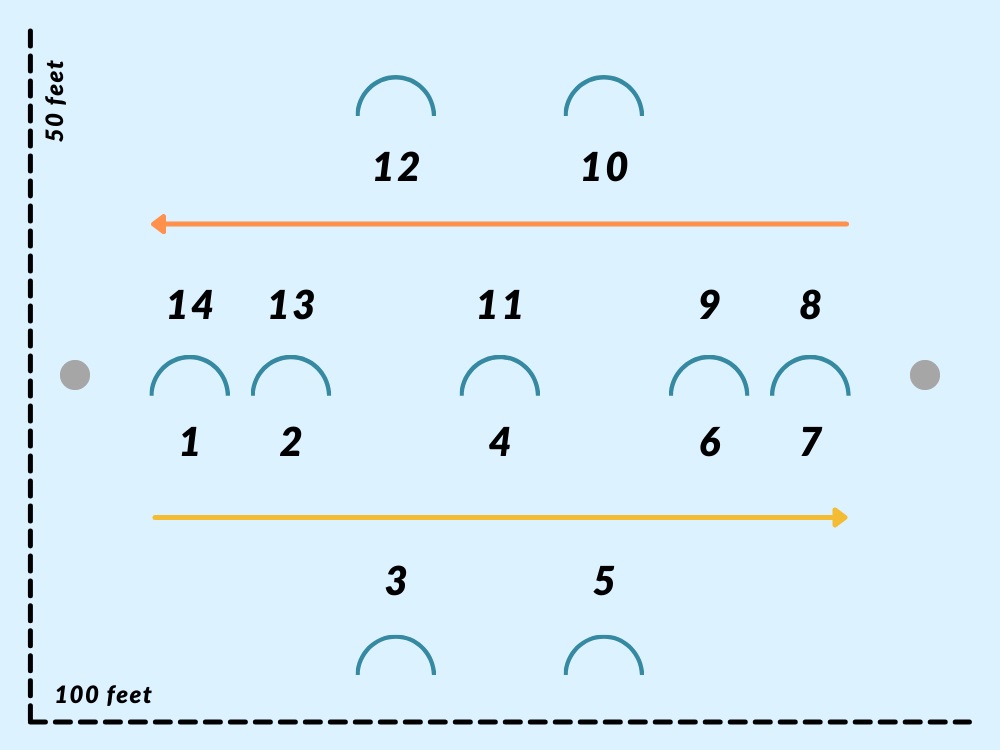 The objective of nine-wicket croquet is to be the first player to score 14 wickets and 2 stakes in the correct order. Each player gets a turn, and scoring a wicket or hitting an opponent's ball will earn extra shots.
For a more detailed guide on how to play croquet in the backyard with your brand new croquet set, check out my guide that I linked to further above in this article. It's actually much easier than you may think.