Please note that I may earn a small commission from purchases made through product links in this article. As an Amazon Associate I earn from qualifying purchases.
Last updated: June 23, 2023
A guide with 25 unique and decorative bird bath ideas to provide water for birds and enhance the appearance of your garden or yard.
A bird bath in a garden or backyard space not only provides decorative value but can also support the conservation of wild birds.
Bird baths provide a much-needed water source for your favorite garden visitors, and are also an effective way to attract birds to a birdhouse in your backyard.
Keep reading, as we have listed 25 unique bird bath decorating ideas that will suit any backyard or garden. Hopefully these ideas will inspire you to buy a brand new bird bath or DIY build one.
In no particular order, here are 25 different bird baths that are great backyard decoration ideas.
1. Tree Stump Bird Bath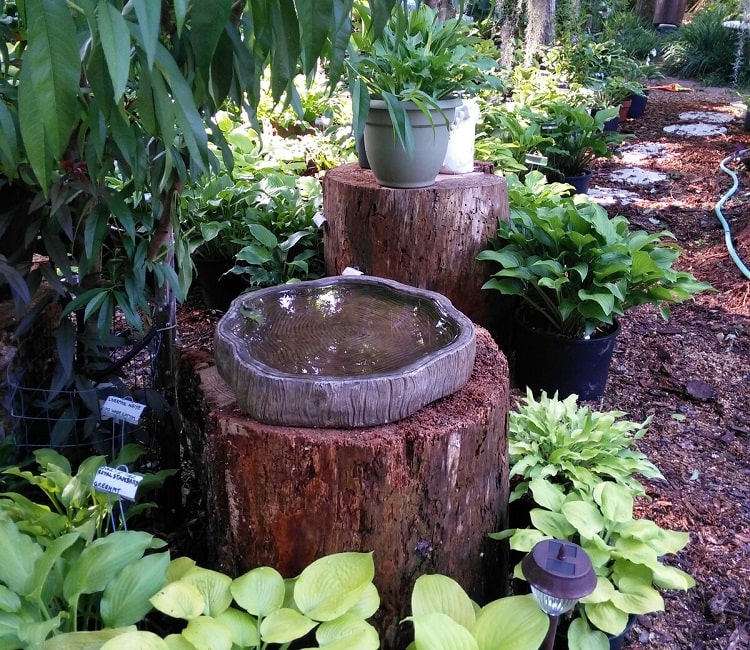 Do you have an old tree stump in your yard and don't know what to do with it? Why not turn it into a beautiful and functional bird bath?
Get the look without the work by utilizing a stump-shaped dish, like this bath, or go the extra mile and hollow out the stump to fit a removable water basin.
Read our guide to repurposing tree stumps for more ideas about creative things to do with old tree stumps in the backyard.
2. Hanging Bird Bath and Feeder Combo

Hanging bird baths are a great way to provide birds with fresh drinking water without putting them at risk for predation by cats and opportunistic birds of prey.
Hanging baths can be installed on your pergola, patio cover, or a tree in your yard. They are a great way to add a fun focal point to your landscape without sacrificing space.
You can find this product on Amazon.
Read our guide to bird feeder types for more ideas about providing food to birds in the backyard.
3. Gnome Bird Bath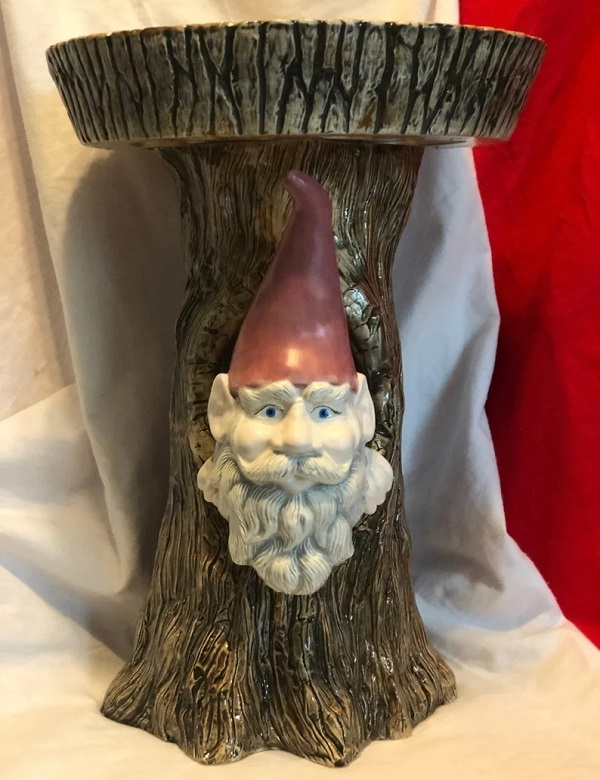 I love having decorative gnomes in my backyard because, in my opinion, they're an excellent landscaping piece as long as you find the right designs.
What's great about this particular product is that it combines a gnome character with a bird bath, which makes it both fun and functional.
The only thing I'm not sure about is whether this glazed ceramic gnome bird bath will actually scare the birds away!
Read our guide to garden gnome ideas for more inspiration around decorating the backyard.
4. Three Cherubs Birdbath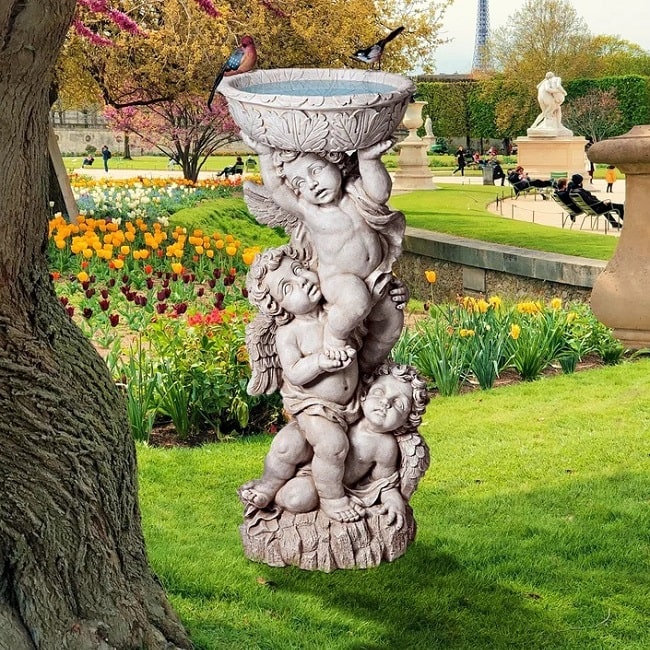 This Baroque-style bird bath brings a taste of classic Italy right to your yard.
Three winged cherubs work in an adorable fashion to hold up a leaf-detailed bowl for your feathered friends.
Perfect for colonial, English, or Tuscan-style landscapes.
5. Heated Bird Bath

Enjoy visits from your feathered friends all winter long by installing a heated bird bath on your deck or patio.
These products often feature a simple design but are highly functional and perhaps even necessary if you live in a colder climate.
Plus, enticing birds to visit your yard in those colder months can help inject a little spring into those long and cold winter months.
You can find this product on Amazon.
6. DIY Modern Bird Bath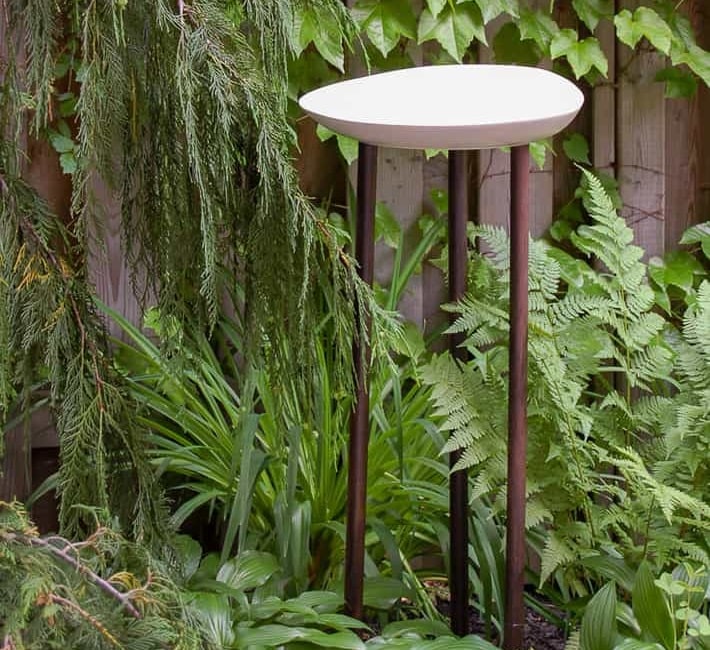 For anyone who loves a DIY project, this modern bird bath comes out looking surprisingly sleek.
It has a super-mod feel with an understated bowl and unusual three-post base, which makes it a perfect addition to any backyard.
While it may look fancy, it costs hardly anything to make, especially if you already have a heavy shallow dish laying around.
7. Evergreen Mosaic Bird Bath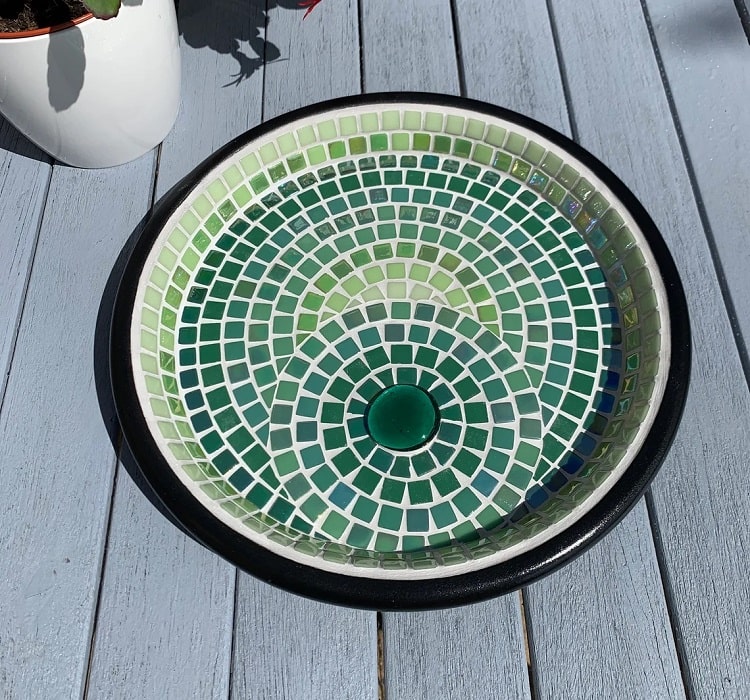 Whether you already have a base in need of a bath or are looking for a shallow dish to invite birds to your deck or patio, this Evergreen Mosaic Bird Bath is a wonderful choice.
Beautiful teal, blue, and green tiles arranged in an eye-catching pattern add a ton of depth to an otherwise simple piece.
The birds may not appreciate the intricacy as much as you do, but your human guests certainly will.
8. Glass Flower Bird Bath

Bird baths don't have to just be utilitarian features; they can easily double as a beautiful piece of landscape art, like this gorgeous glass flower bird bath.
The blue glass lights up in the sun to draw the eye while also being more attractive to local birds.
When not in use, it functions as a whimsical sculpture that easily blends with bright flower beds and provides a much-needed splash of color during those less bountiful seasons.
You can find this product on Amazon.
9. In-Ground Bird Bath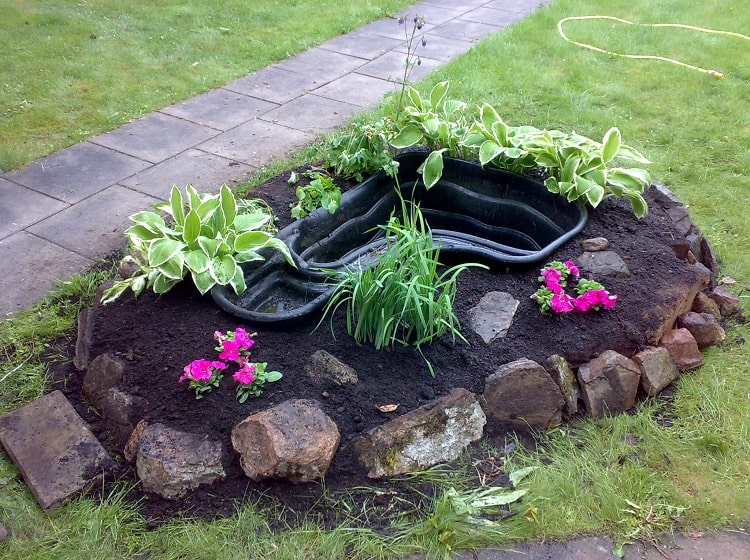 Want a pond but only have the budget and space for a bird bath? This creative approach gives you the best of both worlds.
By burying a small pond liner in a mounded garden bed, you can enjoy the look of a pond (and even add a pump for that moving water effect) without having to pay for the real thing.
10. Metal and Stone Bird Bath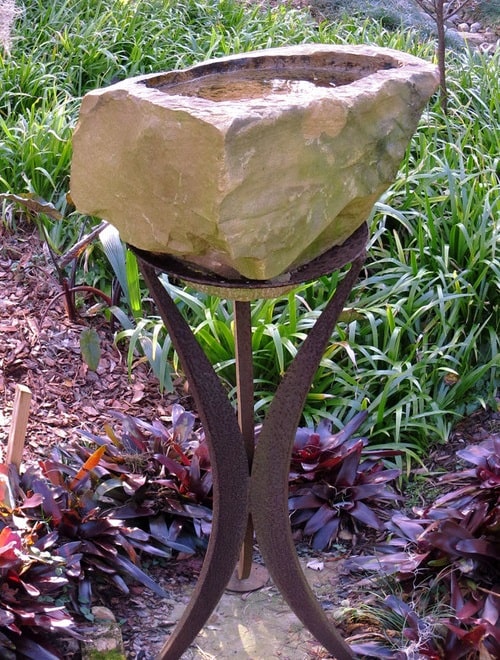 This metal and stone structure is a bit of a statement, as it looks rock solid while still blending in nicely into a garden environment.
It has a very elegant feel to it, and birds may find this bird bath appealing because it does look quite natural.
11. Large Flamingo Birdbath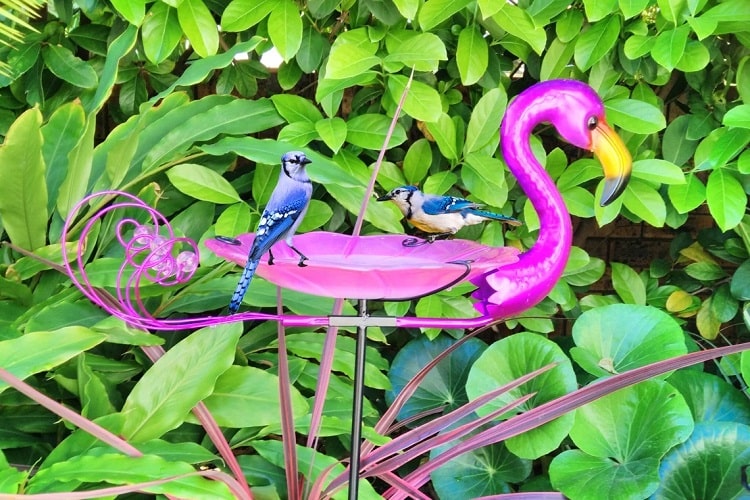 Sometimes kitschy can be super cute. We definitely think that's the case with this pink flamingo bird bath.
A hand-painted glass bowl sits over a metal body with fun embellishments like spiral tail feathers with glass bead end caps. Bright, cheerful, and free of plastic, the perfect decoration piece.
12. Free Standing Garden Bird Bath

For an ultra-sleek, minimalist decorative element, this free-standing bird bath is a great choice for your backyard.
The simple oval bath sits atop a single iron brace that won't detract from the surrounding garden.
It's the perfect height for attracting songbirds while keeping the water out of the reach of mice and crawling insects.
You can find this product on Amazon.
13. Stone Bird Bath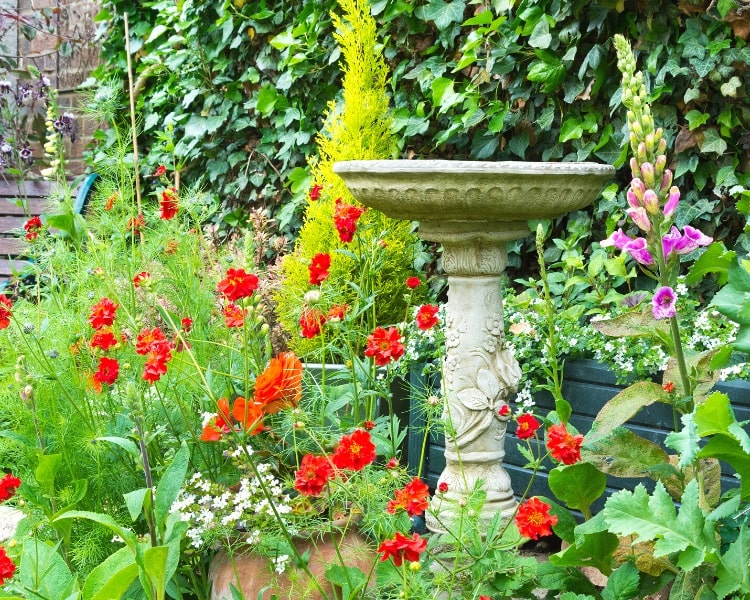 A classic stone bird bath always works well in any garden or backyard environment because they have that neutral look.
The flowers and bushes surrounding this stone bird bath will make it blend in even better, and the wide basin will make this an appealing spot for birds.
14. DIY Salvaged Sink Bird Bath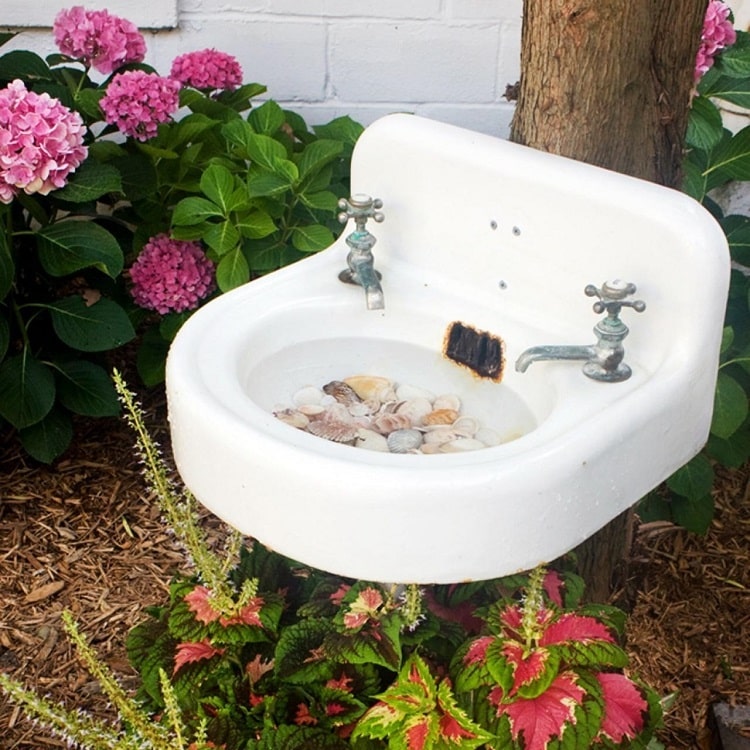 Do you have an old sink lying around?
Why not give it a second life by providing your bird friends a nice place to wash up and have a drink?
This ultra-creative DIY sink bird bath will surely be a conversation starter, and a great way to put scraps from your recent bathroom makeover to use.
15. Garden Bird Bath with Flower Planter Base

This bird bath features a built-in plant holder at the bottom to bring some color to your deck or patio.
Fill the coconut fiber liner with your favorite annuals, pollinator-friendly flowers, or faux flowers.
With a simple design and gorgeous details along the bottom, this bird bath is ready to be the focal point of your favorite sitting area.
You can find this product on Amazon.
16. Stone Statue Bird Bath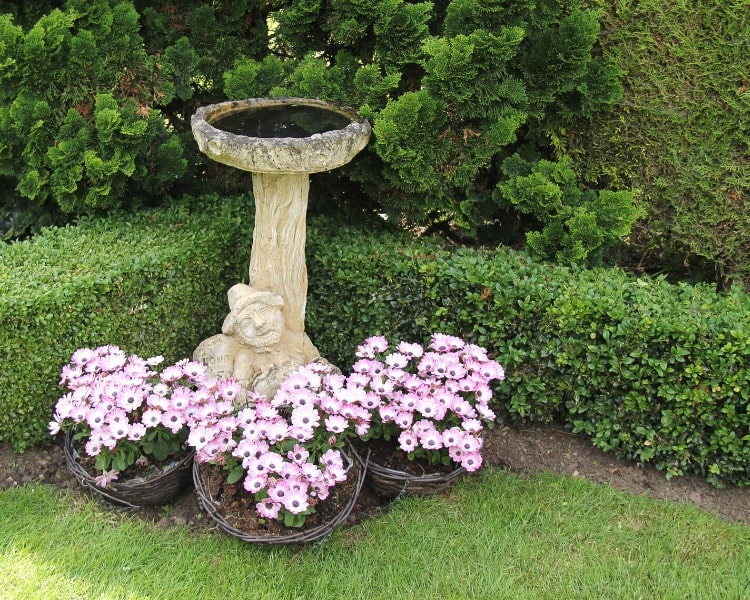 This stone statue bird bath may not be for everyone, but the wide basin and the flowers at the bottom make it a nice decoration piece.
It's similar to the gnome-style bird bath further above, but some birds might be a little too scared to approach this structure.
17. DIY Concrete Leaf Birdbath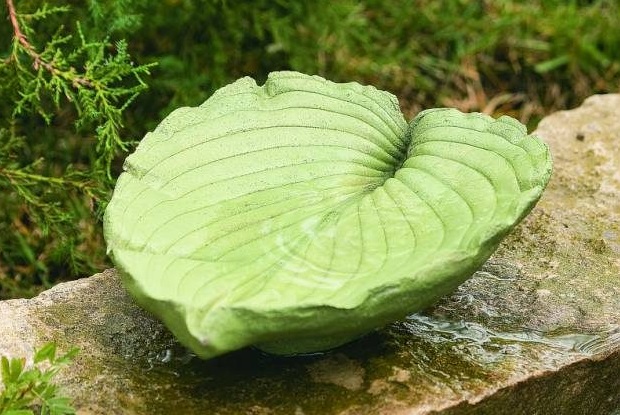 Bird baths don't have to take up a lot of space because, you know, birds don't drink much!
Not only is this nature-inspired DIY leaf birdbath super unique and space-saving, it also costs hardly anything to make.
All you need is a large, deep leaf and some concrete, and you have all the ingredients for a small but elegant bath to decorate your deck rail or concrete wall.
18. Outdoor Ceramic Bird Bath

Is that a gorgeous piece of high-end landscape art or a functional bird bath? Well, they're both!
This high-fire glazed ceramic bird bath is hand-painted for a unique finish that'll bring color to your yard no matter the season.
Moody two-tone accents set this artistic piece apart and are sure to make this bath the centerpiece of any garden bed.
You can find this product on Amazon.
19. DIY Candlestick Birdbath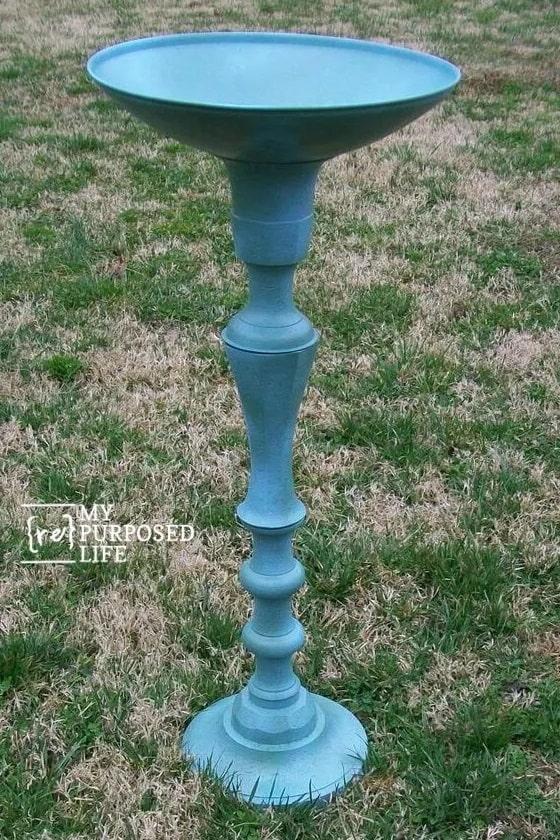 You'd never guess from looking at it that this DIY product was made using an old candlestick holder and a pot lid, resulting in a great looking bird bath.
That's the magic of a bit of creativity and a hefty dose of spray paint.
You can create a similar look using a painted banister column and shallow planter dish.
20. Talavera Pottery Bird Bath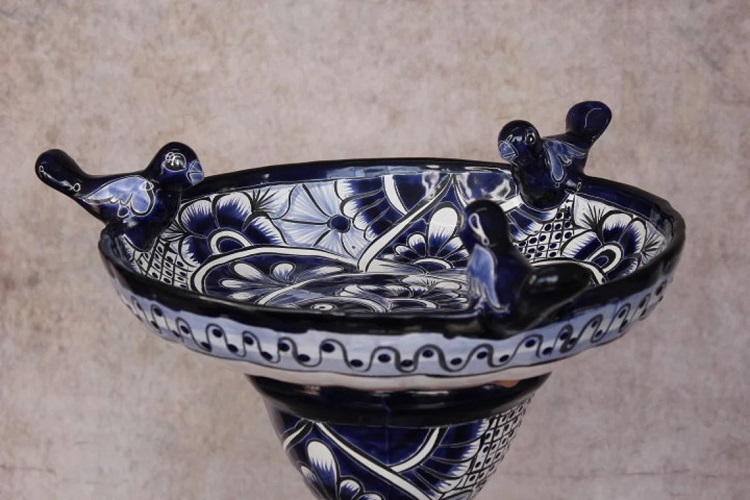 If you're looking to add a water feature to dress up your hacienda-style landscaping, a Talavera pottery bird bath has the perfect aesthetic.
Dark blues and bright whites painted in traditional Mexican patterns create a brilliant focal point for Mexican courtyards, adobe patios, and southwestern gardens.
And don't even get us started on those adorable little ceramic birds!
21. Pedestal Bird Bath with Resin Accent

This resin pedestal bird bath captures the essence of patinaed copper fountains found in the center of every great European square.
The resin finish also makes it much easier to care for and a lot more affordable. It looks so realistic that your guests nor birds will know this isn't actually the real thing.
You can find this product on Amazon.
22. Fountain Bird Bath

A moving bird bath, like this adorable fountain bath, has many benefits for you and the birds.
The soothing sound of trickling water brings ambiance to outdoor seating areas while injecting the water with oxygen to keep it cleaner for the birds.
This multi-sensory bath is the perfect size for the garden, deck, or porch.
23. Stone Fiberclay Bird Bath

This fiber clay bird bath will certainly attract birds to your outdoor space, as it not only looks decorative with ornate flowers engraved into the design, but it's also very functional.
The basin of this birdbath is quite wide and not too deep, which makes it perfectly suitable for birds to bathe in or to have a drink.
The lightweight fiber clay material is also well suited to sustain the elements outside, and because it's so easy to assemble, you can have this structure set up in no time.
You can find this product on Amazon.
24. Hanging Bird Bath

A hanging bird bath will give birds some protection against potential predators on the ground, with many different designs available.
This particular bird bath design includes a decorative bird, and can be easily attached to a tree or otherwise installed on a pergola or other outdoor furniture piece.
25. Waterfall Bird Bath

A small running waterfall in the garden or backyard always creates a natural atmosphere, which birds will appreciate.
There are lots of bird baths available in the shape of a waterfall structure, with most of them requiring a power source to run.
Bird Bath Landscaping Tips
Knowing how to landscape around a bird bath will help you provide a safe environment for visiting birds and enhance the appearance of your backyard or garden.
If you're keen to place one or more bird baths in your backyard, either for decorative purposes or to provide water, there are a few things to consider.
Especially from a landscaping perspective, it's not simply a matter of placing a bird bath anywhere you like.
1. Location Matters
It's a good idea to place the bird bath near a tree or bushes, not only to make it more accessible for birds but also to make it look more natural and appealing.
But as important as it is to have trees and bushes nearby, it's also a good idea to keep the direct surroundings of the birdbath somewhat clear. This will prevent predators from hiding and sneaking up on the birds when they are not paying attention.
This also gives you a bit more space to clean the birdbath or to do any other sort of maintenance. Regular cleaning is important, or otherwise, the birds will stay away.
Do make sure though that the bath is clearly visible, for the birds but also for you from inside the house. Also, during the warmer summer months, place the birdbath in a shaded spot to keep the water as cool as possible.
Also note that you would want to have a birdbath away from the porch, to avoid bird droppings or bird nests in the wrong location. The porch should be bird free.
2. Solid Foundation
This often gets overlooked, but please be mindful that some birds can be relatively heavy.
As such, a bird bath needs to have a solid foundation so that it is stable enough when birds are drinking and bathing.
3. Shallow Basin
Birds prefer a bath that is shallow. Most birds that visit backyards are small. So what may not look like a deep birdbath to you, for the bird, it may be seen as too deep.
To keep most birds happy, a good rule of thumb is to have the basin about two inches deep or less.