Please note that I may earn a small commission from purchases made through product links in this article. As an Amazon Associate I earn from qualifying purchases.
Last updated: May 9, 2023
Reviews of five of the best bocce ball sets you can buy today, based on size, materials used, weight, price, and more.
Bocce ball is a fun and easy yard game for all ages. In a nutshell, the objective of the game is to throw a ball such that it lands closest to a smaller target ball.
There are quite a few different bocce ball sets available to purchase today, some more expensive than others. I have gone ahead and handpicked five of these sets that I believe are excellent value for money.
If you're not sure what this game is all about, definitely check out my bocce ball rules guide with all the essential ins and outs.
Measuring rope + carry case
Measuring rope + storage caddy
Top Pick
Measuring rope + carry case
Second Choice
Measuring rope + storage caddy
Top 5 Bocce Sets:
Let's have a closer look at the following five bocce ball sets, so you can pick your favorite and start playing this fantastic game tomorrow.
1. GoSports Multicolor Bocce Set

This popular GoSports bocce ball set is a basic yet good quality set, perfectly suitable for outdoor play. It features eight sturdy classic resin balls in four different colors (red, green, blue, and yellow), which means you can play with four different teams.
Most bocce ball sets (including the professional ones) have balls in two colors, so if you intend to play in more than two teams, these extra colors certainly add value. The balls are 90 mm and have a perfect weight, which makes them comfortable to throw.
The balls also have excellent grip and roll nicely on grass. Also worth noting is that the balls with the same color have different lines on them, which means you can form up to eight teams if you like.
Included in this bocce ball set is a measuring device (which is quite necessary!) and a super handy canvas carrying bag for easy storage and carrying around. All things considered, including the reasonable price, this would be my favorite backyard bocce ball set.
2. EastPoint Sports Bocce Ball Set

This EastPoint bocce ball set comes with official tournament-size balls (110 mm) in red and green colors. They are made with a premium resin material for that perfect grip and roll on grass and sand surface.
You do have the option to downgrade to a simpler backyard set which comes with eight 90 mm balls, perfect for children to become familiar with this fantastic game.
This set also includes a measuring tape, in addition to a portable storage caddy that protects the balls and keeps them in place.
3. Vssal Premium Pro Bocce Ball Set

This Vssal set is a regulation-sized bocce ball set with eight 100 mm resin balls in the colors blue, green, yellow, and red. The crack-resistant and durable balls are quite pretty with a nice shine premium look.
The balls are also officially waterproof, so you can still play when it's a bit wet and cold outside, on whatever surface you prefer. In addition, balls with the same color have different patterns (circle and straight line), allowing for larger groups to play.
As with most bocce ball sets, this Vssal set also comes with a measuring rope and a sturdy zippered canvas carrying bag, convenient for storage and carrying wherever you want to go. Overall, this premium bocce ball set is excellent value for money.
4. Rally and Roar Bocce Ball Set

With this particular bocce ball product, you can choose a two-color or a four-color set, depending on how many teams you plan to play with. In addition to that, you also have flexibility with the size of the balls, with 90, 100, and 107 mm as the options.
The balls are nicely balanced and perfectly weighted resin bocce balls, providing a great ergonomic experience with a greater ability to aim. They roll well on sand, grass, and, of course, on official bocce ball courts.
Included in this set are a much-needed measuring tape and a durable, water-resistant carrying case that's also lightweight and compact in design, making it super easy to move around and store when not in use.
5. Ropoda Bocce Ball Set

The last one on this list of best bocce ball sets, from Ropoda, is perfect for family play in the backyard. The balls come in four different bright colors and are 90 mm in size, making them suitable for adults as well as for children.
Even though the balls aren't official tournament size, they are made with quality lightweight resin material, which will appeal to amateur players but also to professional players keen to play a quick casual game in the yard.
The set includes a simple yet convenient reinforced nylon carrying case and a white poly-resin jack. Overall, this is a fun, family-friendly, and affordable bocce ball set suitable for casual play.
Buying a new bocce ball set certainly isn't rock science by any means, but here are a few things to consider.
1. Size
Size can be an important consideration when choosing a new bocce ball set, depending on who is going to be using the set the most.
For example, children and beginner players might prefer a smaller ball size (74 mm to 100 mm) for better grip and easier handling.
On the other hand, bigger tournament-grade bocce balls (over 100 mm) are more suitable for experienced players. Professional players use 107mm balls.
2. Weight
The weight of the balls is another factor to consider, as it impacts the comfort of handling the balls and the throwing accuracy.
Children and seniors might prefer lighter bocce balls, which they can handle and throw with ease.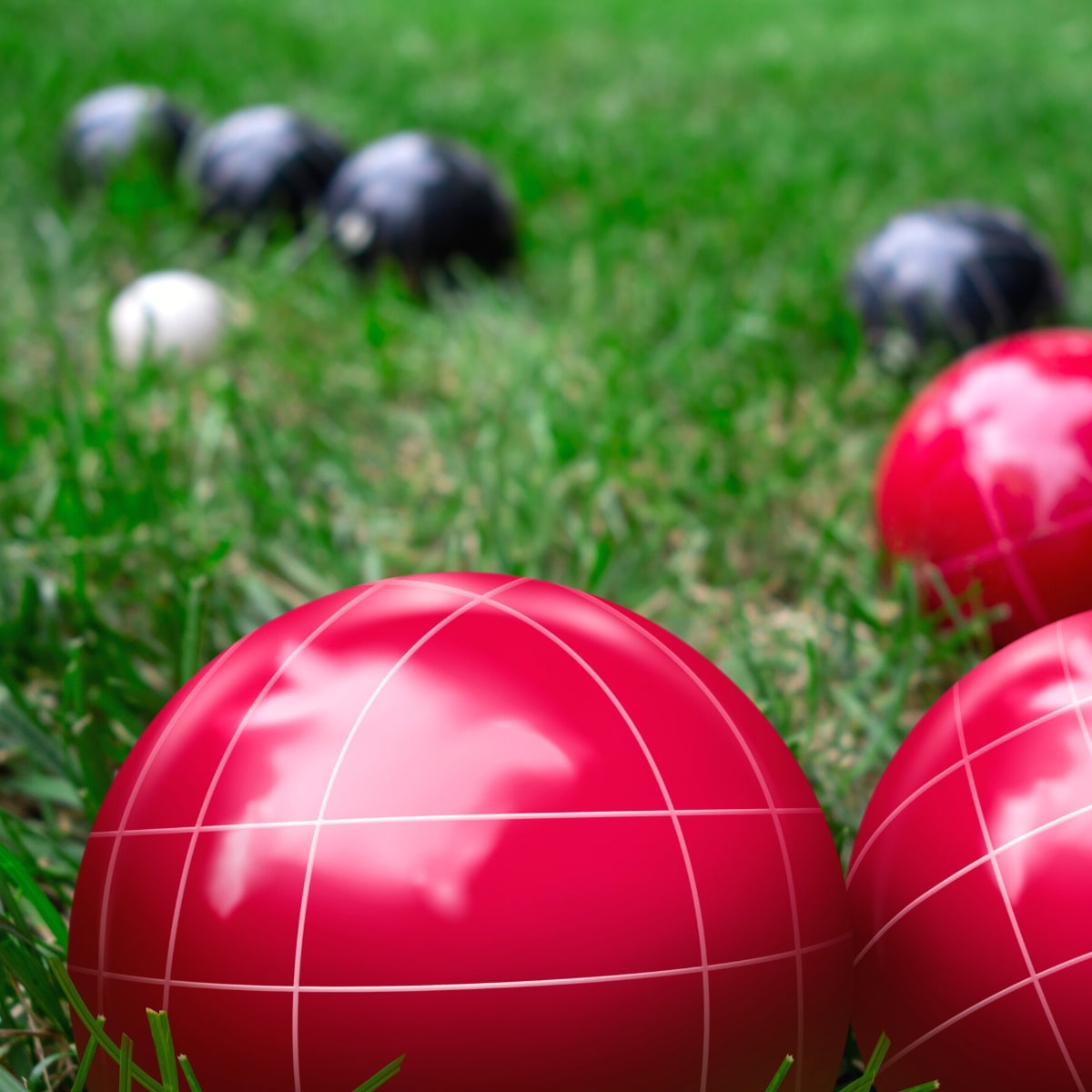 Regulation-sized balls typically weigh 2 lbs, which is sufficient weight to enable you to throw more accurately.
3. Materials
The materials used will impact the cost, weight, and sturdiness of bocce sets.
Solid resin is the best material for bocce balls because it's very durable, and it is also the preferred choice for professional players. Unsurprisingly, resin balls are more expensive.
That said, there are certainly more affordable bocce ball sets made from rubber or plastic.
The problem with these lower-grade materials is the balls are more susceptible to chipping and breaking. For casual backyard play and outdoor recreation, these materials are perfectly fine.
4. Price
Bocce ball sets come in all sorts of price ranges, which means there's something for everyone. The most affordable bocce ball sets range from $35 to $45, although you can find a set for as low as $20.
I would say that if you're just starting, get yourself a more affordable bocce ball set. If you and your friends or family enjoy playing the game in the backyard, you can always invest in a more expensive, professional-grade bocce ball set.
Superior-quality professional sets cost about $80, but the price can go well beyond $100. Just remember that cheap can also turn out to be expensive, so make sure to read through reviews online to confirm that the set offers good value for money.
There you have it, my guide to buying a new bocce ball set. Hopefully you have been able to pick your favorite from the above list of 5 bocce ball sets.
It's quite an addictive game (as you will soon find out), and there is very little preparation work required to start playing this game very soon.