Please note that I may earn a small commission from purchases made through product links in this article. As an Amazon Associate I earn from qualifying purchases.
Last updated: March 7, 2022
In this article, I am going to share 11 creative and imaginative garden gnome ideas, from classic and traditional to large and whimsical gnomes.
There is something about garden gnomes that just makes people happy. Maybe it's their, usually, cheerful faces, or the fact that they add a touch of whimsy to any garden.
No matter what the reason, garden gnomes are enjoyed by many, as there's no denying that they add some fun and personality to your garden. There are many different styles and designs available, so you can find one that perfectly suits your taste. And best of all, they're affordable!
So, if you're in need of a little bit of cheer this spring, consider adding some imaginative garden gnomes to decorate your backyard and outdoor space.
Put on your gardening gloves and get ready to add some personality to your garden with these adorable little guys.
In no particular order, here are 11 gnome ideas for your yard or garden.
1. Classic Garden Gnome
The classic, or traditional, garden gnome, has a rather interesting and long history that goes as far back as the times of ancient Rome.
The garden gnome that most of us know is a small, typically rotund figure in the shape of a bearded man. The most popular versions are often dressed in traditional Bavarian-style clothing and wearing pointed red hats.

Classic garden gnomes are a symbol of the old country, and today they're perfect for any home. If you're just starting out with decorating your yard with gnomes, why not just focus on those classic figures, they're a wonderful addition to any yard or garden.
But if you're looking for something a little more unique, read on as there are so many different options to consider.
2. Three Wise Garden Gnomes
One of my favorite gnome ideas is this set of three garden gnomes in the shape of three wise men.

Three Wise Garden Gnomes
Outside yard gnomes dimensions: Henry Hears No Evil: 3.5 inch wide x 5 inch deep...
Durable design: These funny figurines are made from a sturdy polyresin material...
Classic statue collection: This fun set of three gnomes represents the famous...
The three gnomes represent the "hear no evil, speak no evil, see no evil" proverbial principle, with one gnome covering his mouth, another covering his eyes, and a third covering his ears.
These 12 inches high statues are made from polyresin material keeping them very lightweight and easy to move around as you see fit.
3. Miniature Garden Gnome
Garden gnomes are always small, but you can also get miniature versions that you can kind of hide in all sorts of places, such as in a plant pot.

These little figurines are perfect for anyone who wants to add a bit of personality and flair to their outside space or just enjoys the outdoors.
The best part? They're super affordable and you can often choose between a whole range of different shapes and versions.
4. Garden Gnome with Light
It might not come as a surprise, but there are also garden gnomes that can light up at night, either as decorative light or as a functional light source.

Solar Garden Gnome Statue
【Solar Power RGB Light】Features two RGB solar lights, the light color of the...
【Dainty and Delicate Garden Angel】The light from the birdbath illuminates...
【High Quality Resin Material & Waterproof】Made of resin, hand-painted and...
What's more, some of these gnomes are solar powered so that they can collect and store energy from the sun during the day and then light up when the sun sets.
This particular waterproof garden gnome statue is crafted with resin, is hand-painted, and is sure to bring some whimsical fun to your backyard.
5. Welcome Gnome
A garden gnome with a welcome sign is the perfect way to greet guests as they enter your garden or backyard in a fun and unpretentious atmosphere.

Greeting gnomes make great additions to any garden and can really help to spruce things up. Not only are they visually appealing, but they also provide a bit of extra functionality.
This is a great way to add personality to your yard and show your guests that you appreciate their visit.
6. Tree Gnome Home
Is there anything more whimsical than a gnome tree house? Do you have a little one who loves gnomes, trees, and little houses?
If so, why not combine all of their favorite things by building them a tree home for gnomes!

Tree Gnome Home
Miniature Fairy Garden Door Windows: The gnomes and fairies are looking for...
Premium Quality: The mystical fairies home are made of high grade resin. The two...
Easy to use: There is a keyhole on the back of each door and windows, you can...
It's easy enough to do and can be as simple or complex as you like. Plus, it will provide hours of fun for your child (and likely you too).
It doesn't even need to be an actual house. Instead, you can simply attach a door and a couple of windows to a tree making it look like a real gnome home inside your tree.
7. Wheelbarrow Gnome
A garden gnome with a wheelbarrow creates the illusion that you have a helping hand with all your gardening efforts.

With many such gnome designs, the actual wheelbarrow can act as a flower pot or even as a bird feeder, although birds might be a little scared of the gnome itself.
I personally find a gnome with a wheelbarrow one of the best ways to use gnomes as a decorative item in the backyard.
8. Angry Gnome
Meet Markus, the angry gnome. This little guy has been around for centuries and is often found chasing people away with his unwelcoming gestures.
Many people have speculated as to what could be causing his odd behavior, but one explanation stands out above all others; it's because of how much he loves gardening and doesn't want anyone disturbing him.
Whatever the story may be, an angry gnome in your backyard is just another way to add a bit of unpretentious fun to your backyard.
9. Bird Bath Gnome
I personally love having birds around in my backyard and as such I will always try my best to make my outdoor space as appealing as possible for birds.
One simple and effective way to do this is by placing bird baths outside in strategic places.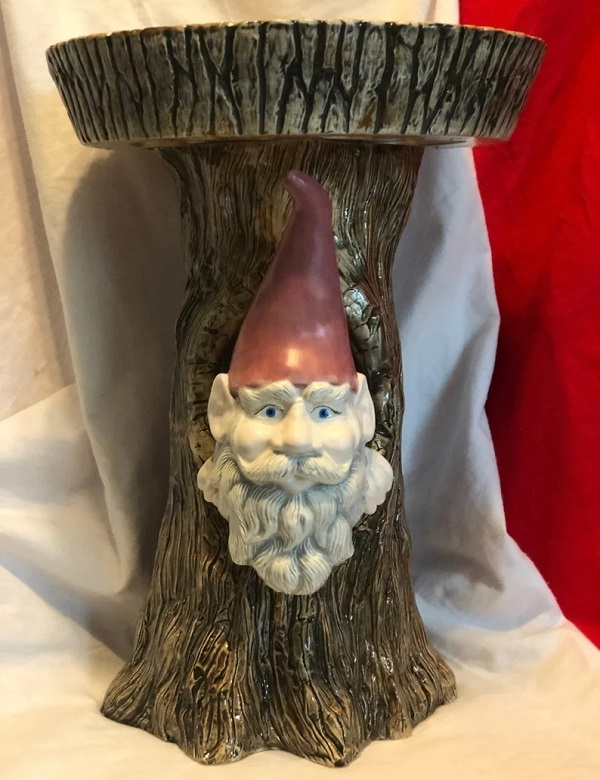 Bird baths are great for birds, especially during the warmer summer months, but they can also have decorative value, such as this funny gnome and bird bath combination.
Check out my list of unique garden bird bath ideas for more inspiration.
10. Zen Garden Gnome
A chilling garden gnome in a lotus position makes the perfect addition to any backyard out there.
Sale

Zen Garden Gnome
Hand-cast using real crushed stone bonded with high quality designer resin
Each piece is individually hand-finished by our artisans
Exclusive to the Design Toscano brand and perfect for your home or garden
It represents exactly what a garden should be, a place to relax, to be one with nature, and to enjoy the sounds and smells around you, while soaking in a bit of sunshine.
This particular zen garden gnome statue is made of durable designer resin with UV resistant paint, designed and built to last for many years of relaxation in the yard.
11. Garden Gnome Family
If you can get one garden gnome, why not invite their whole family into your outdoor space?

Gnomes are a social bunch, which means the more the merrier, so gather all their friends and relatives to create a happy group of little garden people.
They don't necessarily need to be the classic family; a group of musicians or a bunch of gnome gardeners grouped together will have the same whimsical effect.
Garden gnomes have been a popular decorative item for gardens and homes for centuries. And while there are many different types of garden gnomes, the most common type is still the classic bearded gnome with a pointy hat that we all know.
Hopefully the above list has given you some ideas for gnomes to include in your own yard in different ways. One often overlooked way to use gnomes is by decorating an old tree stump with gnome statues.
Gnomes can be used to add decoration and personality to any garden or yard, and they are also a great way to show your love of gardening.