Please note that I may earn a small commission from purchases made through product links in this article. As an Amazon Associate I earn from qualifying purchases.
Last updated: April 22, 2022
If you know me, you will know that I love being outside and turning the yard into an entertainment area. Having fun with my family and friends while also enjoying a bit of sunshine is priceless.
One great game I really love playing outside is Jenga! It doesn't matter how old or young you are, a game of Jenga is always loads of fun. Especially when you have an oversized, giant, outdoor Jenga set to play with.
In this article I am reviewing 5 of the best giant Jenga sets on the market to help you pick the best one for your next backyard party.
Blocks: 7.15 x 2.38 x 1.43 inches
Blocks: 7.75 x 1.5 x 2.5 inches
Tower height: 2.17 - 5 feet
Tower height: 2.5 - 5 feet
Top Pick
Blocks: 7.15 x 2.38 x 1.43 inches
Tower height: 2.17 - 5 feet
Second Choice
Blocks: 7.75 x 1.5 x 2.5 inches
Tower height: 2.5 - 5 feet
Top 5 Giant Outdoor Jenga Games:
Top 5 Giant Outdoor Jenga Games
In no particular order, here is my top 5 giant Jenga games for outdoor use.
1. Jenga Giant JS7

Premium quality hardwood combined with expert craftsmanship gives shape to this fun-filled giant outdoor Jenga set. Take note that this is the authentic Jenga branded game.
The Jenga tower built with this set can grow to over 5 feet tall as the game progresses with blocks building level after level, perfect for a party outside in the backyard.
This set is ideal for ages 12 and above, with the hardwood blocks being a little heavier. It also comes with its very own carrying case, so you can easily transport it anywhere and store safely after a good game.
2. GoSports Giant Wooden Toppling Tower

This giant Jenga set includes 54 hand-selected knot-free pine blocks crafted to perfection. The tower starts at 2.5 feet tall and can grow to over 5 feet.
A great thing about this Jenga game set is that it comes with a dry erase board that you can use to make up your own creative party rules for twice the fun. The giant Jenga blocks come in different wood finishes that you can choose from, which sets it apart from a lot of the other sets available.
The robust carrying case helps protect the blocks and accessories when storing and carrying around outside.
3. Giant Timber Stacking Game

This giant Jenga set is perfect for an outdoor BBQ party, with 60 large wood blocks that are crafted with precision. The blocks make a 2.5 feet high tower which can grow to over 5 feet as the game progresses.
It's worth mentioning that the wood used for this Jenga game is sustainably sourced from kiln dried New Zealand Pinewood. The quality blocks are sanded to avoid any splinters and guarantees smooth gameplay.
Kids and adults can enjoy playing a game of Jenga, with the recommended age being 8 years and over. It also comes with a heavy-duty, super-strength, and durable 10 oz canvas carry bag to keep your blocks safe and transport them easily to any party.
4. Giant Tumbling Timber Toy

Get your hands on this jumbo wooden block Jenga set if you're looking for a fun-filled action game that will get the whole family involved.
This Jenga game is a little more kid friendly, with a slightly lower tower and smaller blocks. But still large enough to be considered giant! It is also made with pure high-quality pinewood that ensures durability and long life and the convenient carrying case helps protect the blocks when in storage.
The blocks are actually numbered, so you can play the game the old way or switch it up by adding your own custom rules to make it twice the fun.
5. Yard Games Giant Tumbling Timbers

This timber block giant Jenga set is a fantastic game for a fun get-together. When set up, the tower proudly stands at 2.5 feet tall and can grow to over 5 feet during play.
The blocks are made with fine pine wood soured sustainable from New Zealand, kiln-dried, and hand-sanded for durable and smooth game play. Like the other sets, this one also comes with a high-strength carrying case made of nylon, that keeps the blocks safe when stored or transported.
If you're looking for a new game to play in your backyard and create fun-filled memories with family and friends, you can't go wrong with this jumbo sized Jenga game.
Jenga is one of those interesting games that is not only fun, but also requires skill and a bit of a strategic mindset.
It's a game for all ages, stacking blocks upon blocks until the tower stumbles down to the ground. I don't know about you, but I still need to meet someone who doesn't like to play Jenga.
A Bit of History
The game Jenga was created by a woman named Leslie Scott, a British citizen born in Tanzania and raised in East and West Africa. The name "Jenga" was derived from the Swahili word "Kujenga", which means "to build".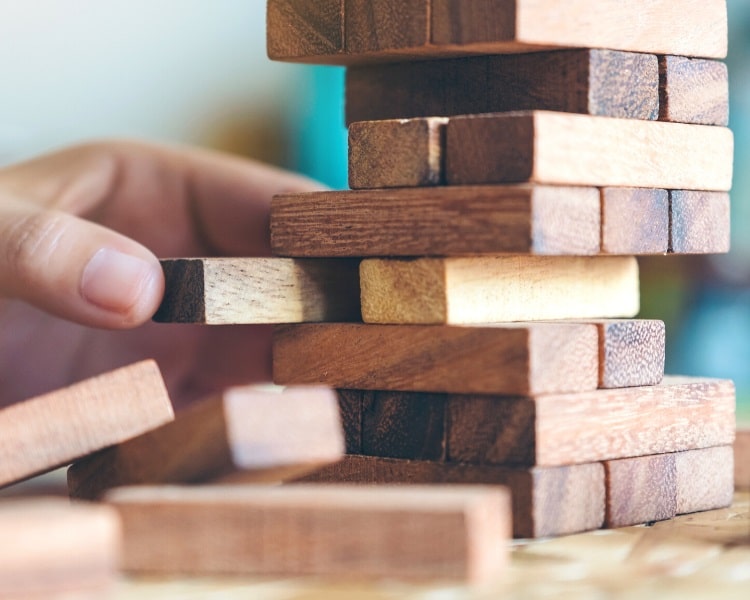 Leslie Scott used to play the game with her family in Africa for many years. One day she realized how fun the game was that she decided to leave her job and launch Jenga at a toy fair in 1983 to introduce the game to the rest of the world.
It was a success, and the iconic game Jenga was invented and manufactured for people to have fun with their friends and families.
How to Play Jenga
The game Jenga is built on the simple premise of stacking blocks.
Players typically start with 54 blocks, stacked 18 levels high with 3 blocks across each level. All the levels are perpendicular to the one above and below them.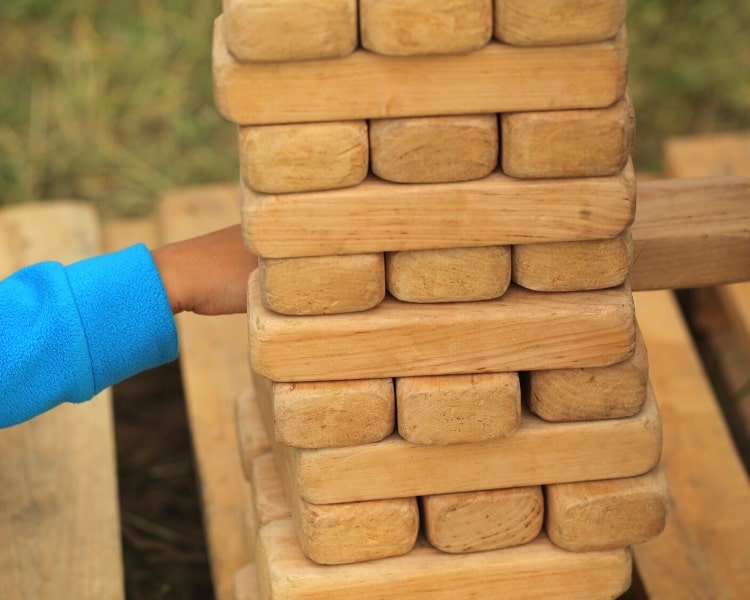 Each player has a turn at removing a block from near the bottom of the tower and placing it at the top. Now the tricky part here is that players can only do that with one hand. The more levels are created the more unstable the tower becomes.
The player that causes the tower to collapse loses the game.
How to Improve Your Chances of Winning in Jenga
Jenga is all about strategy, and there are several tricks to win by keeping your tower stable when it's your turn.
Here are a few tips to improve your chances of winning in Jenga:
Test stability by tapping the tower blocks lightly:
If you pull out a block from the unstable side of the tower, the whole tower will collapse. To avoid this you can tap the tower slightly with your finger to check stability and maintain the structural balance.
Push the blocks out rather than pull:
Rather than pulling the blocks out, slightly tap the middle blocks to push them out. Concentrate on your move and stay focused on your block to not accidentally tap too hard and cause the tower to fall to the ground.
Take the middle blocks out first:
Taking out the middle blocks at the start will help maintain the tower's stability. Once you're out of the middle blocks, try moving the left or right block to the center to maintain the center of gravity.
Place on the opposite side:
Placing the blocks alternatively will help stabilize the tower as it grows. If you take a block from the left side of the tower, place it on the right side, and vice versa. Even distribution of weight will make the tower stand tall and improve your chances of winning the game.
Sounds fun? Trust me, it's loads of fun.
So, go ahead and get yourself a giant outdoor Jenga set for hours of outdoor entertainment with your mates!