Please note that I may earn a small commission from purchases made through product links in this article. As an Amazon Associate I earn from qualifying purchases.
Last updated: February 1, 2022
Cornhole is one of the most popular games to be played in the backyard, at tailgating parties, at the beach, or in the park.
It's a rather basic game that can be played by anyone. But with improved skills and a good understanding of the rules and techniques, cornhole can easily turn into a competitive sport.
In this article I am going to walk you through the rules of cornhole, the equipment setup, and the scoring system.
Also referred to as corn toss, sack toss, bean bag toss (and other names depending on your region), the game of cornhole involves throwing a small bag towards a wooden platform with a hole in it.
Points are scored if the bag either ends up, and stays, on the wooden platform, or if the bag goes through the hole. This may sounds simple, but there is actually quite some skill required to be really good at this game.
As with so many other recreational games, cornhole has a somewhat debatable history, and the lack of clear documentation certainly doesn't help either.
If you'd like to learn more about how cornhole came about, check out my article about the history of cornhole with some interesting facts, myths, and everything in between.
Why do I like this game?
You don't need to have cat-like reflexes to dominate in this game, nor do you have to possess transcendent athleticism either.
Cornhole is a game of skill, unrestricted by age limits and height requirements. Cornhole's inclusivity makes it a game that the entire family can easily enjoy without regard to youth or old age.
Who knew that simply launching a miniature bean bag into a hole that is 27 feet away could be so exhilarating?

GoSports Premium Cornhole Set
100% SOLID WOOD: Premium craftsmanship boards, varnished surface (easily painted...
REGULATION SIZE: Full Cornhole set includes 2 regulation size (4 feet x 2 feet)...
EVENT DAY FAVORITE: Hours of fun with friends and family at tournaments,...
Cornhole Rules for Dummies
Now let's talk about how to play cornhole, down to the smallest details, including the equipment you will need, the rules, the scoring and the object of the game.
1. Equipment
To play cornhole, you will need:
Cornhole boards
Cornhole bags
Playing field
Right off the bat, you will need to get acquainted with what can be described as the pillars of the sport: the two cornhole boards. These boards establish the basis of competition and will serve as the object by which you will try to outscore your opponent(s).
Next, you will need two sets of four cornhole bags. Be sure that each set of four cornhole bags are of different colors or designs; having different colors makes it easier to distinguish your cornhole bags from that of your opponent's.

The ultimate goal is to land the cornhole bags in the hole; however, simply landing the bags on the board counts for something. The scoring system will be explained in greater detail as you continue to read along.
Cornhole is a game that requires two to four players to play. You can play one-on-one, or you can play as a team of two-on-two with the same goal of trying to outscore your opponents.
Finally, you will need a good amount of space to play the game properly. There's a great deal of distance between you and the cornhole board that you're trying to score on. A measuring device, such as a tape measure, is useful to have the precise measurements.
2. Field Setup
The first thing that you want to do when setting up a riveting game of cornhole is to find flat and level ground. Begin with placing one cornhole board on the flat and unobstructed area.
Next, take the tape measure or the measuring device of your choice and measure 27 feet from the bottom end of the board. 27 Feet is indeed the standard distance between the competitors and their cornhole targets. However, this length can of course be shortened and adjusted for skill level.
The next step is to place the second board at the end of the 27 feet directly in front of the first board so that they mirror one another. After that, place a set of cornhole bags on each cornhole board.
Now it's time to pick a side next to the board that you feel most comfortable throwing from. It should be noted that your opponent will line up directly opposite of you next to the other cornhole board.
On the other hand, if you are playing with four people, your teammate will be across from you at the other board. Each of you will take turns tossing bags one at a time until all the bags get tossed.
If you would like to know what an official cornhole court looks like, check out my guide to cornhole court and board dimensions with a complete outline of all the components of a cornhole playing area.
Here is a sneak peak: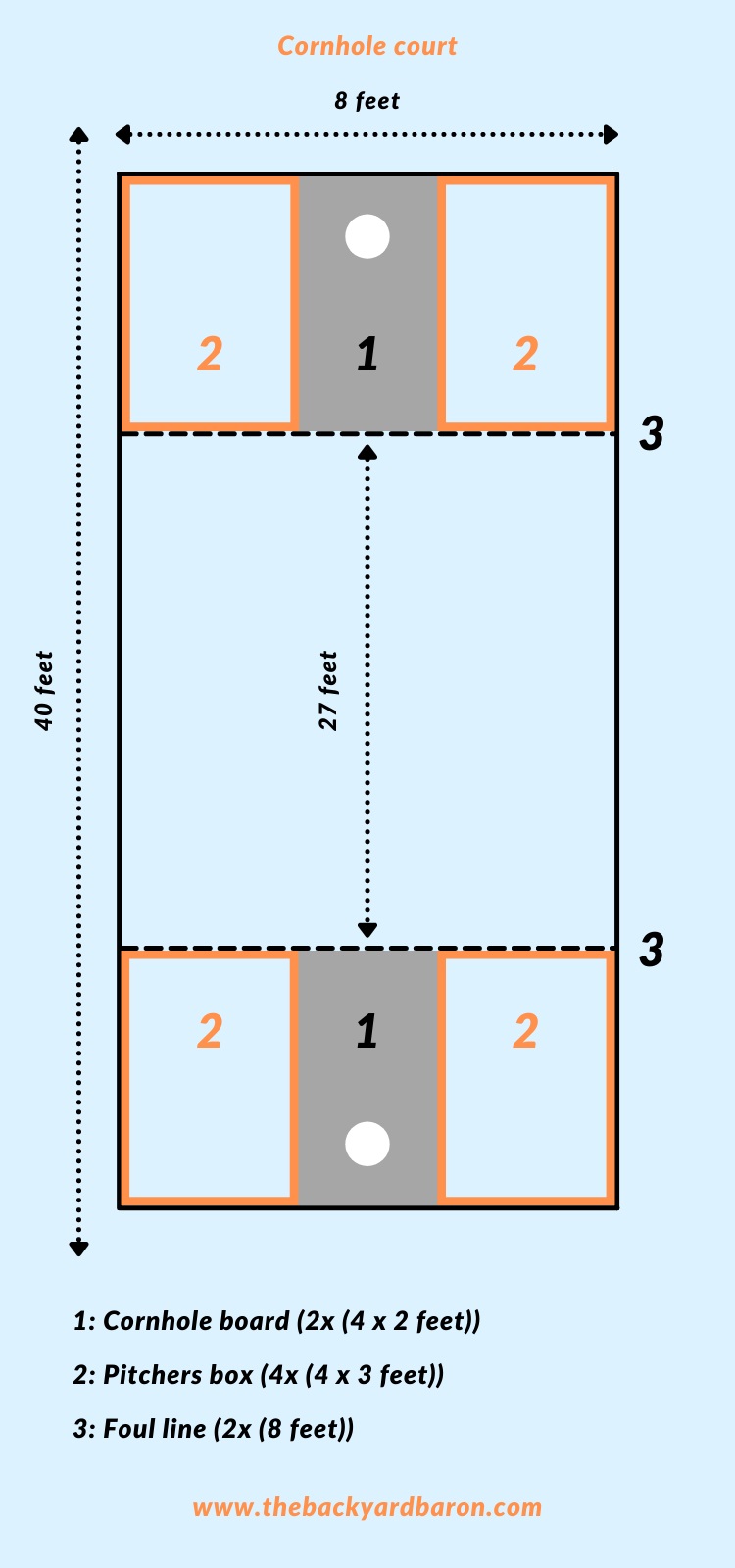 3. Scoring System
Every game is a race to exactly 21 points, with the points being tallied up at the end of every round. Each round ends when both competitors have thrown all of their bags at the cornhole boards.
In a two-player game, if you're starting from the left, you'll have to throw back from the other side of the board, on the right side. You'll do this at the end of every round. The rounds continue until someone or a team reaches 21 points.
But how do you accumulate the points to arrive at 21? And in what increments are points scored?
A Race to 21 Points
Since the name of the game is to throw the bags directly into the holes of the boards, doing so awards you more points than landing one of your bags on the board.
Bags that make it through the hole get awarded three points. Bags that remain on the board at the end of every round will get awarded one point. The bags that do not remain on the board at the end of every round will count for, you guessed it, zero points.

With cornhole, the scoring system is somewhat counterintuitive. Instead of adding up your points and counting them towards your total, points from both you and your opponent are subtracted from one another at the end of every round.
For example, if at the end of a round you have three points and your opponent has two, then you will be awarded one point to carry on to the next round to be added to your total. Your opponent will total a zero for that round. To calculate the score, subtract two from three.
Remember, at the end of every round, the person with the most points will be awarded the difference between the points they scored, and the points their opponent scored. This trend will continue until someone reaches 21 points.
For example, if you had 19 points and you scored three points with a bag that landed in the hole, you will not win the game because you would have 22 points. In this instance, your score will get reset to 15, and the game will continue until someone scores exactly 21 points.
Team Scoring
With a team game of cornhole, the scoring is the same. However, instead of going to the opposite cornhole board at the end of each round, your teammate will be opposite of you.
At the end of each round, you will alternate tossing your bags with your teammate.
4. Techniques and Tips
The techniques that will allow you to excel in cornhole don't come all that easy. But let's share a few techniques and tips that you may find helpful.
If your bags tend to slide onto or off of the board, try throwing the bag so that one side of the bag makes full contact with the board.
If your bags tend to hit the board and slide off at the end, simply try launching your bags at a higher arch which will give your bags a better chance of landing flat on the board.
If your stance feels uncomfortable, try changing up your stance, while making sure to not step in front of the board.
Advanced Strategies
If you or your team is on the verge of winning with what the board totals at the moment but there are still bags left to be thrown, throw your bags to the side. If you continue throwing, you could risk busting your score by landing on the board.
If one of your bags is very close to falling into the hole, try throwing one of your remaining bags directly at that particular bag. This could knock the bag in the hole for more points.
If your opponent's bags are at or near the edge of the board, try throwing your bag to knock theirs off and land your bag simultaneously.
5. Game Variations
Here are a few different ways to spice up the game.
Go Long
Try this variation as opposed to the conventional playing for points. You can amp up the fun by setting out to see who has the ability to throw and make the longest shot. There's also a variation of this whereby you take a step back with every shot that you make.
Cornhole-In-One
The name of this game is to stand at the standard distance of 27 feet, but instead of playing for points, you play to see who can get their bag straight through the hole. The first person to do so wins the game.
7/21
In this version of the game, every team is given seven bags. You play cornhole as you normally would, but after each bag is thrown, whoever has the number of points closest to 21 wins.
You guessed it, if you throw 7 bags into the hole, you will reach 21 points, which is a perfect game.
Cornhole is a good time waiting to happen. So long as you have your two cornhole boards and your bags, fun is never too far away.
It's a game to be enjoyed, quite literally, by people of all ages. Now that we have shown you the tricks of the trade, you can be on your way to becoming a cornhole wizard in no time.