Please note that I may earn a small commission from purchases made through product links in this article. As an Amazon Associate I earn from qualifying purchases.
Last updated: June 16, 2023
Reviews of five of the best backyard kids sandboxes with cover, based on size, ease of setup, materials, durability, and more.
Sandboxes have been entertaining children since 1847, when Friedrich Froebel, founder of the kindergarten movement, incorporated the idea for a large wooden box filled with sand into his teachings.
Today, sandboxes have evolved to take on many forms and come in so many different sizes and shapes that it can be hard to choose just one to entertain your growing child. Read on, and choose your favorite from my selection.
Top 5 Covered Sandboxes:
Here are my reviews of five of the best covered sandboxes. Each of these selections has received overwhelmingly positive feedback, includes features that make them fun and practical, and has a cover for added protection.
1. Little Tikes Turtle Sandbox

Are you looking for a simple, above-ground sandbox to entertain one or two small children? The Little Tikes Turtle Sandbox has been doing just that for generations.
This reimagining of the old classic comes with the same friendly face many of us remember from childhood. Over the years, though, this little turtle has seen a few practical improvements that make it better than ever.
Today's turtle sandbox features two molded seats over the turtle's front feet so kids can play without sitting in the sand. The inside bottom of the floor is detailed to encourage digging, and the walls are steeper to help keep the sand safely inside.
This 39-inch by 43-inch sandbox has a decently small footprint but still holds an impressive 150 pounds of sand. It is not something you want to move around after adding sand, but before, it weighs just 11 pounds. It is lightweight enough to easily move around the yard or hang on the garage wall for winter storage.
The one thing you will notice if you had one of these turtles as a child is that this version features thinner plastic. This is especially noticeable on the turtle-shell lid. The lid is no longer strong enough to hold a child's weight without flexing and should not be used as part of the play.
Despite being more lightweight, the lid does a decent job of staying in place to keep bugs and cats out of the sand. This is thanks to the deep grooves behind the head and front legs that keep the wind from getting under the lid and tossing it off.
Overall, the Little Tikes Turtle Sandbox may be a little less durable than the classic, but it has enough upgraded features to make it very much worth the purchase.
2. DIY Octagon Cedar Sandbox

If you need a larger sandbox with enough space to entertain multiple kiddos, this beautiful DIY Octagon Cedar Sandbox is the way to go.
At 84 inches across and 78 inches wide, this spacious sandbox can hold over 800 pounds of sand. It easily has enough space for four children to let their imaginations run wild. And four of the sides feature long wood benches for extra seating.
The side panels are made of durable cedar that have been painted with safe, water-based stain. The bottom of the pit is made of water-permeable cloth that allows moisture to drain out while keeping weeds from growing. This sheet is meant to sit beneath the pit, but for best results, I recommend using a staple gun to affix it to the wooden walls.
This kit also comes with a top cover that fits tightly over the frame to keep water, insects, and animals out. This PE plastic cover is a little thinner than I would like and sags considerably in the center, allowing water to pool. To prevent tearing at the corners, I recommend propping up the center of the tarp using an overturned kiddy pool or similarly sized item.
The kit itself requires assembly but is much easier to put together than one would expect. Each side piece fits together using a notch system. The only tool you will need is a screwdriver.
Despite the less-than-durable cover, this sandbox is a great buy and very well-priced for what you get.
3. Step2 Naturally Playful Sand Table

The biggest downside to any sandbox is the tendency for that sand to end up everywhere but in the box. The intelligently designed Step2 Naturally Playful Sand Table helps reduce sand tracking thanks to its elevated setup.
This sandbox is raised 16 inches off the ground and meant to be used as a play table rather than a sit-in sandbox. That means no more sand getting tracked into the house in toddler shoes and pant seams. Your kid gets all the fun experiences of the sandbox without actually having to get in the sand.
This small table is perfect for the back patio. It is just 26 inches wide and 36 inches long. Despite the smaller size, the elevated setup allows for multiple kids to play with this sandbox at the same time.
I like that this sand table is designed with heavy-duty plastic that can easily hold 40 pounds of sand without tipping or buckling. Without sand, the set weighs a surprising 16 pounds, a testament to the thickness of the plastic used. Still, it is easy enough to move around when empty and can be repositioned with the help of a second person when full.
The Step2 sand table comes with a thick plastic cover as well. Two elastic bungees hold this cover in place to prevent the wind from throwing it around. Unfortunately, the lid doesn't hang over the edges enough to keep water out during a rainstorm, so this table is best stored under an overhang or covered with a tarp.
While the lid isn't perfect for keeping out water, it does a great job of keeping kids entertained. This is thanks to the molded roads on the top that allow it to double as a second play table.
Aside from the leaky cover, I love everything about this sand table and am sure your kids will too.
4. KidKraft Outdoor Covered Wooden Sandbox

Rain covers are great, but they don't do anything to protect your kid while they're playing in the sandbox. For that, you'll need the KidKraft Outdoor Covered Wooden Sandbox.
This beautiful wood sandbox includes an elevated shade cover to keep your kids out of the sun as they experience the joys of imaginative sand play. In addition to the shade cover, the kit also comes with a waterproof sandbox cover to keep water and critters out. This cover stores nicely inside one of the side benches.
This is a large sandbox with plenty of room for multiple children to play side-by-side. It is 64 inches long by 60 inches wide and holds up to 600 pounds of sand. In addition to the sandpit, the KidKraft wooden sandbox features built-in benches on each side and two plastic bin inserts that can be used to hold water, rocks, or toys.
The kit does require assembly. You will need about 5 hours plus a drill to get the job done. The wood is water-resistant but raw. I recommend staining it before putting the kit together if you want it to last.
If you're in search of a sturdy, functional sandbox that will look great in your yard while protecting your kid while they play, this is it.
5. Little Tikes Big Digger Sandbox

Want to really wow your little one? The Little Tikes Big Digger Sandbox is sure to do that and more, thanks to a number of fun features that elevate sand play to the next level.
This is more than a sandbox; it's a complete construction site just waiting for a foreman to bring it to life. In addition to the sandpit, this kit includes a built-in excavator, dump truck, construction worker figurines, buckets, and digging tools. Plus, the lid flips over to double as a ramp and road for the dump truck to drive on.
This colorful plastic sandbox is smaller than most and meant to be played around rather than in. The box itself is only 28 inches square, in contrast to the misleading size labeling posted on Amazon. But it is quite deep and will hold an impressive 100 pounds of sand. Without sand, the product weighs 13 pounds and is easy to move around as needed.
The lid folds over the top of the sandbox and doubles as a play table. It does not snap down and can easily be blown open by the wind. But a long bungee stretched over the entire surface fixes that issue fairly quickly.
For small spaces, this sandbox offers hours of entertainment and, considering everything that comes with it, is an incredible bargain.
Covered Sandbox Buying Guide
A sandbox is a right of passage for children of all ages. Choosing the right sandbox for your needs will give your kid an imaginative play space that will entertain them for years.
Still not sure which sandbox to buy? This handy buyer's guide can help. Below are all the things worth considering before choosing a new covered sandbox for your child:
Why a cover?
Size of sandbox
Ease of setup
Materials
Sand maintenance
1. Why a Cover?
If you've ever had an uncovered sandbox in a suburban neighborhood, you already know the big answer to this question: cat poop. Your child may see a sandbox as a place of pure imagination, but all your neighborhood cats see is a litter box.
A tight fighting cover is a must to keep animal poop and urine out of your sandbox. But a cover does more than that. It also helps keep debris, water, and insects out of the sandpit.
The key to keeping your sand as pristine as possible is a well-fitting cover that won't blow off in the wind and can keep moisture out.
The cover should also be somewhat breathable to allow any moisture that does get inside to escape in order to keep the sand from getting clumpy between uses.
2. Size of Sandbox
How big your sandbox should be is a matter of how much space you have to dedicate to it and how many kids will be playing with it at once.
Sand tables are great because they tend to take up very little space, but can be enjoyed by more than one kid at a time since they are meant to be played around rather than in.
More traditional sandboxes provide an immersive experience but require more space if you want multiple children to play in them at a time.
If you plan to move the sandbox around when it has sand in it, think very small. Sand is heavy, and even small boxes get weighed down quickly once filled. Most medium to large boxes are not meant to be moved once the sand has been added.
3. Ease of Setup
Some sandboxes, like the Little Tikes Turtle Sandbox, require exactly zero assembly.
But most do require some sort of setup, whether that's putting plastic legs on a sand table or snapping together an intricate structure of side panels.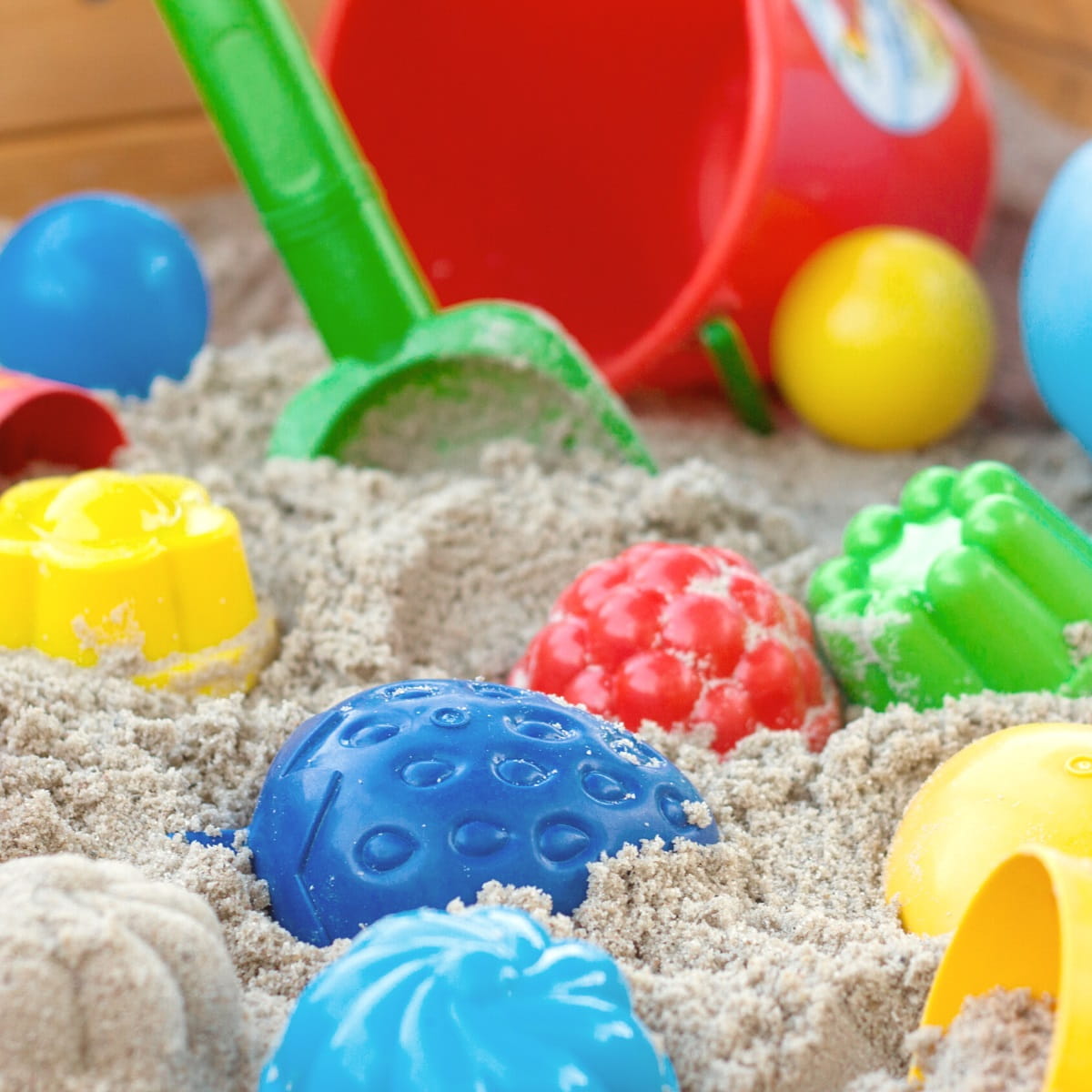 Wooden sandboxes, especially, tend to take a few hours to put together and may even require power tools.
Plastic sets tend to be easier to assemble but still may require screwdrivers or drills to attach different parts.
4. Materials
Plastic is the most common material used in sandbox kits today. These kits are nice because they are durable and weather resistant. Plastic kits don't require much upkeep and can often be stored outside through the winter without fear of cracking or splintering.
Wooden kits have a nicer, more traditional look to them but tend to require more upkeep if you want them to last. To avoid splintering and cracking, wood panels need to be stained every one to two years.
The material of the cover will also vary depending on the product. Thin plastic and vinyl covers are easy to store and put in place but are more prone to tearing and breaking down in hot and cold weather.
Solid plastic covers are more durable but aren't as good at keeping moisture out and may require extra weight or tie-downs to keep them in place.
5. Sand Maintenance
To conclude my buying guide, let's discuss a few maintenance tips for your brand new backyard sandbox with a cover.
I've already explained the benefits of having a cover, or lid, with the sandbox. In my opinion, that's a crucial accessory, especially for outdoor backyard sandboxes.
In regards to sand, it's best to choose play-graded sand over anything else. It's the type of sand that is easy to remove from clothes and doesn't cause unwanted stains.
Also, make sure you replace the sand at least twice a year, no matter how clean or fresh the sand may still look. There will always be dirt hidden in that sand, and for the safety of your kids, it's important to replace that sand regularly.
It's also a good idea to check the sand in your sandbox for any nasty objects, such as glass, plastic bits, etc. Get yourself a rake, or use your hands, and carefully go through that sand before your kids start playing.