Please note that I may earn a small commission from purchases made through product links in this article. As an Amazon Associate I earn from qualifying purchases.
Last updated: May 30, 2022
Tetherball is a simple yet fun game that can be played at the beach, in the park, or in the backyard. It requires a small round playing area, a pole, and a ball attached to the pole with a rope.
The game is played by two people, but you can also practice solo to improve your skills. It's relatively easy to build a DIY tetherball court and pole, but there are also tetherball sets available to purchase.
In this article, I am going to outline what a tetherball court and pole look like, including a diagram with the correct dimensions.
| | |
| --- | --- |
| Court layout: | Circle with 2 playing zones and 2 neutral zones |
| Court diameter: | 20 feet |
| Pole height: | 10 feet (measured from ground) |
| Ball: | Hangs 2 feet above ground |
Tetherball Court Dimensions
Before I continue explaining the tetherball court and pole dimensions, let me emphasize that, to my knowledge, there is no official tetherball governing or regulating body.
As such, the guidelines in this article are exactly that; they are guidelines. In other words, there is room for flexibility. You can make the court and the pole smaller or bigger. You can also make the rope shorter or longer as you wish, to accommodate your personal needs.
As mentioned, it is possible to build a tetherball court and pole yourself, which I will touch on further below, but you can also simply buy a tetherball set. Buying a set is probably the best choice when you're just starting with this sport.

GoSports Tetherball Game Set
TETHERBALL SET: Take fun back to days on the playground and school recess with...
CLASSIC FUN: Encourage the whole family to get active outdoors with fun and...
INSTANT SETUP: Simply stake the bottom into grass or sand and connect the poles...
Elements of a Tetherball Court
Here are the different elements that make up a tetherball court:
Playing zone (x2):
A tetherball court is usually played by two people, with each player based in a playing zone. That is where the players can do their hits.
Neutral zone (x2):
A court also contains two, smaller, neutral zones. These are the areas where players can't step on.
Pole:
The pole is installed right in the middle of the court, and is typically 10 feet high.
Ball:
The ball is what the players need to keep hitting. There are specific tether balls available, but a volley ball will work as well.
Rope:
The rope is what attaches the ball to the pole. The length should be such that the ball hangs 2 feet above the ground.
The entire court, in the shape of a circle, has a diameter of 20 feet.
Court Dimensions
Here is a diagram of a tetherball court: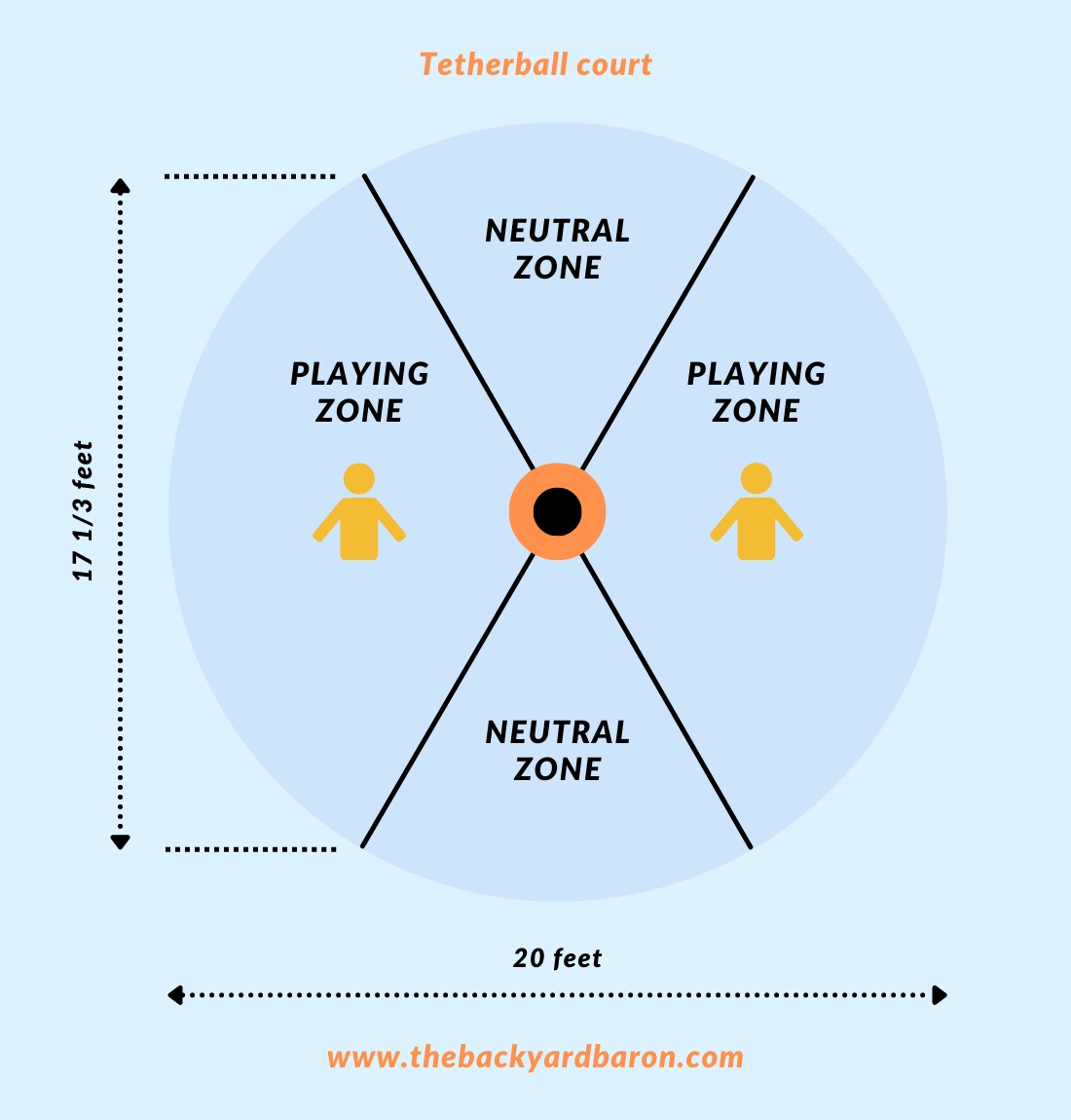 These are the measurements of a tetherball court and its elements:
Tetherball court diameter:
The diameter of the entire court is 20 feet (240 inches).
Playing zones:
The two playing zones occupy 2/3 of the court. The widest part of the playing zone is 17 feet and 4 inches (204 inches).
Neutral zones:
The two neutral zones occupy 1/3 of the court.
To create the four zones, visualize the court as a clock.
Then draw one line from 11 o'clock to 5 o'clock, and another line from 1 o'clock to 7 o'clock. This is essentially the same as drawing one line from 10 to 4, and another from 2 to 8 o'clock.
Note that these dimensions are not set in stone at all, but when building a court, it's recommended to use these measurements as guidance. You can, of course, make the court, the zones, and the pole smaller, if you wish.
Simplified Court
You can also choose to create a simplified version of a tetherball court, which only has two playing zones, and no neutral zones.
With that simplified version, all you have to do is draw a line in the middle of the circle to create those two playing zones.
For an even more simplified version, you can also choose to not worry about zones at all. All you need is a pole with a rope and ball, and you can start playing. This is the best solution for kids who just want to have a bit of fun.
Pole Dimensions
These are the measurements of a tetherball pole, rope, and ball:
Pole:
The pole is 10 feet (120 inches) high, measured from the ground.
Ball:
The ball should hang at 2 feet (24 inches) above the ground.
Rope:
The length of the rope is essentially 8 feet (96 inches) long minus the diameter of the ball.
A tetherball pole is typically 12 feet long, with 2 feet in the ground, and 10 feet above the ground.
When the ball is hanging still, it should ideally be at 2 feet above the ground. As such, the length of the rope (from top to ball) is 8 feet, minus the diameter of the ball.

Setting up a Tetherball Court
There are various ways to set up a tetherball court in the backyard. You can simply buy a portable set, or you can try and create a permanent court with cement and a metal pole.
1. Portable Tetherball Set
The easiest way is to simply buy a done-for-you portable tetherball set. Such a set typically includes a portable pole with a rope and a ball.
You may still need to draw the zones, but only if you want to. As mentioned above, it's perfectly fine to play a fun game of tetherball without zones.
2. DIY Tetherball Set
If you're a bit of a handyman, building a tetherball pole and court is not all that difficult.
A common way to do this is with an old tire filled with cement, with a metal pole placed in the center of the tire.
You can either install this tire and pole on a grassy patch, or you can set up the tire and pole on a concrete patch of the backyard. To create the zones (which, ultimately, is optional), you can use marking spray on grass or chalk on concrete.
The below video explains the process of setting up a tetherball pole with an old tire, cement, and a metal pole.
Hopefully this guide has provided the answers you were looking for in regards to the correct dimensions for a tetherball court and tetherball pole.
If you would like to learn more about this fantastic game, be sure to check out my guide to the rules of tetherball for a complete outline of the rules, the scoring, the setup, and the required equipment.
Interested in setting up more backyard games? Check out my guides to the cornhole court dimensions and horseshoe court dimensions for inspiration!