Please note that I may earn a small commission from purchases made through product links in this article. As an Amazon Associate I earn from qualifying purchases.
Last updated: March 31, 2023
Reviews of three of the best thatching rakes available today, based on durability, materials, handle, rake head, and price.
Thick layers of thatch can negatively affect the health, appearance, and resilience of your lawn. Luckily, the problem can be easily dealt with using a little elbow grease and the right thatch rake.
Dethatching lawn requires a specific kind of rake made to remove thatch without stressing or damaging living lawn. A good quality dethatching tool will help save you time and energy during what is a laborious process.
After searching and testing the top-selling dethatchers on the market, we put together this list of three reliable and affordable thatching rakes (plus an alternative).
Top 3 Thatch Rakes:
The below three thatching rakes will help restore your lawn easily and efficiently, and without leaving you too sore to finish the rest of your yard chores.
We have also reviewed an alternative option further below, which is an electric dethatcher, in case you don't want to do this chore manually.
1. Ames 15 Inch Adjustable Thatching Rake

For a dependable all-around tool that has all the features you need to effectively de-thatch your lawn, you can't go wrong with the Ames 15 Inch Adjustable Thatching Rake.
This simple de-thatching tool has a long 54-inch hardwood handle, which is highly durable but does add a little bit of weight. At 4.5 pounds, it is the heaviest rake on our list.
If you're a bit older or struggle to manipulate heavier yard equipment, this one may be a little much for you in the long term. But for those who can take a little extra weight, you'll see how that stiff, durable hardwood handle translates to better performance.
The 15-inch wide head of this Ames rake is double-sided. It features long, curved tines on one side for removing dead debris from your grass. The other side features short, sharp tines that are set on a slight angle to cut out thatch.
The angle of the head can be adjusted via a pair of simple wingnuts at each rake head connection point. This is a great feature for both tall and short users who will benefit from a customizable contact angle.
Overall, this heavy-duty rake has everything we would expect from a quality thatch rake. It is also well-priced and comes with an impressive 15-year warranty.
2. True Temper 15 Inch Adjustable Thatching Rake

For a durable hardwood thatching rake that's a little lighter and easier to handle, the True Temper 15 Inch Adjustable Thatching Rake is a great bet.
Like the Ames rake, this one features a double-sided head with two different types of tines. The long, curved teeth are perfect for removing dead grass and cultivating the soil, while the shorter, sharper tines work well to cut and remove thatch.
The head is the same width as the Ames and also features an adjustable tilt via a simple wing nut adjustment. The handle also has a decent length of 54 inches.
At only 4 pounds, this tool is slightly lighter and a bit easier to maneuver than our first choice. And, since the handle is still made of solid wood, you don't have to worry about it bending or bowing as you put weight on the head to dig into thick grass.
The True Temper thatch rake is priced similarly to the Ames and comes with the same 15-year warranty. The tines on this one are a touch thinner, but they still perform quite well after long-term use.
3. Corona Tools 15 Inch Thatch & Groom Rake

Looking for a budget-friendly thatch rake that won't disappoint? The Corona Tools 15 Inch Thatch & Groom Rake combines affordability and functionality for a great buy.
Like our other choices, this one features a 15-inch, double-sided rake head with two different kinds of tines for clearing debris and cutting thatch. The teeth on this one aren't as long as the others for deep work, but that feature does allow for a smoother back and forth motion. The head is also adjustable, though the tilt options are more limited on this model.
The 54-inch handle is made of wood, but of a lower quality than our top two choices and is not quite as long-lasting or durable. On the upside, this rake weighs the least of all the choices on our list at only 3.49 pounds.
The Corona rake is more lightweight and maneuverable, making it an excellent choice for older homeowners and hobby gardeners. But remember, less weight also means getting down to the soil will take more passes.
Overall, the Corona thatching rake is a great buy for people looking for an affordable, dependable tool.
4. Alternative: Greenworks Electric Dethatcher

If dethatching your lawn by hand sounds like a headache (or, more accurately, an arm ache), you may want to consider an electric dethatcher. In this category, we love the Greenworks Electric Dethatcher.
This little machine makes quick work of pulling dead grass and deep-seated thatch from your lawn. The rotating wheel features dozens of small, durable tines that penetrate deep into the lawn.
The 10 Amp motor creates enough force to quickly and effortlessly pull the debris loose so it can easily be raked up later. The penetration height can be adjusted to three separate levels depending on the depth of your grass.
Unlike a thatching rake, which requires quite a bit of labor to use, this machine is as easy to push around as a light lawnmower. And it only costs about twice as much as our top choice manual rake–not a bad investment for a tool that can get the job done in half the time with a fraction of the effort.
The Greenworks electric dethatcher comes with a 3-year warranty, requires an extension cord to run, and features a collapsible handle for easy storage.
Thatching rakes are definitely a necessary tool to have in your garden storage shed if you want a healthy, vibrant lawn. But don't just settle for any rake; make sure your product has the right features to make the job as easy and effective as possible.
Surprised by how many different options and features are available in the realm of dethatching tools? Let our simple thatching rake buying guide help you understand these tools better so you can find the best thatching rake for your needs.
Let's go through the following deciding factors in more detail:
What is (de)thatching?
Manual or electric?
Handle length
Handle material
Rake head
1. What Is (De)Thatching?
Thatch is the technical term for the mat of intermingled dead and living stems, leaves, and roots that form in lawn.
In thin layers, thatch can be beneficial by providing insulation against the sun, water loss, and foot traffic. But if thatch is allowed to get too thick, it can prevent water, sunlight, and oxygen from reaching much of your grass.
De-thatching is the process of cutting and pulling up this layer of tangled material so that your grass can breathe and grow the way it should.
2. Manual or Electric?
When it comes to dethatching your lawn, you have two choices.
Manual dethatching is done using a specialty rake that features strong, durable, sharp tines that can get deep into grass to cut away thatch.
Unlike traditional rakes, the tines on these do not flex with pressure. The shapes of these tines are specialized to penetrate grass and slice through horizontal debris.
An electric dethatcher looks somewhat like an electric aerator or lawnmower. These machines use a spinning wheel covered in small tines to rip and pull up dead grass and thatch so it can be easily raked up.
They require less time and effort to use, but they also cost more and require more storage space.
3. Handle Length
Most thatching rakes will feature a handle between 52 and 62 inches long. Longer handles are necessary for taller people to avoid having to bend to get the right pressure on the rake head.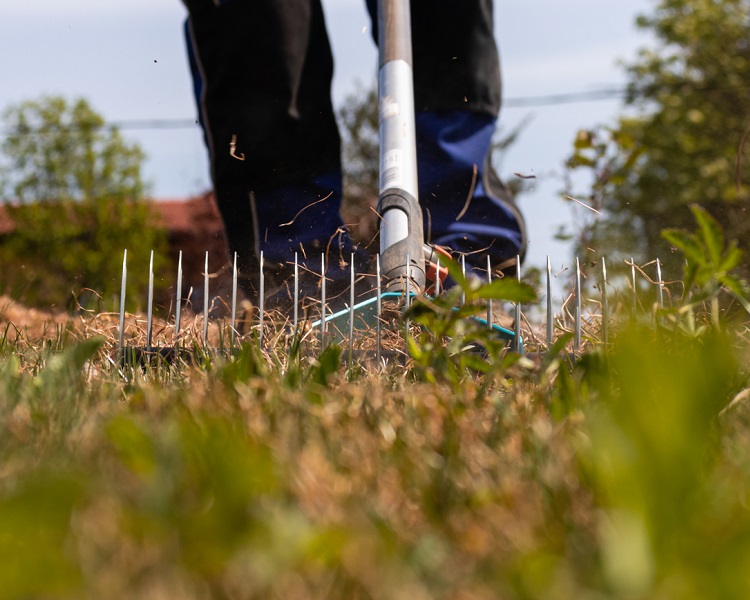 For shorter individuals, opting for a shorter handle will not only make the rake easier to maneuver but also cut down on the overall weight.
4. Handle Material
The handle of thatching rakes can be made of wood or fiberglass.
Hardwood handles are less likely to flex or bow during use, which makes it easier to apply pressure to the rake head. But they are also heavier, which can make maneuvering the rake that much more difficult. Depending on what type of wood was used and how it was finished, these handles can be long-lasting or quickly begin to splinter and deteriorate.
Fiberglass handles are much lighter but more prone to flexing. This movement, though slight, will take away from how much pressure you can put on the head of the rake. This often means you'll have to make more passes to get down to the soil.
On the plus side, fiberglass handles will not deteriorate in the sun or rain and are likely to last longer than low-quality wood handles.
5. Rake Head
All quality thatching rakes will feature a double-sided head. On one side, you'll find long, curved tines that work much like a traditional metal rake to pull loose debris out of your lawn.
The other side will feature shorter, sharper tines that are often twisted at a slight angle. These are what you'll use to break up and remove thatch from deep in your lawn.
To effectively clear thatched lawn, you should use the long tines first to remove dead grass and debris. Then switch to the de-thatching tines to cut and clear away the mats of thatch that exist closer to the soil.
Look for rakes with thick metal tines that won't easily bend. You also want to assure the head is adjustable so that the angle can be customized based on your height and the angle of movement.
Check out our guide explaining the
different types of rakes
for a complete outline of all the rakes that exist and what you can use them for.