I may earn a small commission from purchases made through product links on this website at no extra cost to you. As an Amazon Associate I earn from qualifying purchases.
Last updated: August 7, 2023
Reviews of five of the best plastic outdoor playsets for toddlers, based on safety, features, size, durability, and more.
One great way to give your kids the experience of going to the park without leaving the yard is to purchase a plastic outdoor playset.
Some of these playsets feature many of the same exciting options that you'll find at the park, such as slides, climbing walls, and swings. And there are also smaller, toddler-friendly playsets that take up very little room in your backyard and are super affordable.
But, as with most plastic toys, it can be hard to find one that isn't cheaply made. To help you out, we have tested and reviewed the best plastic outdoor toddler playsets available today.
23.27 x 51.91 x 39.76 inches
Second Choice
23.27 x 51.91 x 39.76 inches
Top 5 Plastic Backyard Playsets:
Top 5 Plastic Backyard Playsets
The below play sets not only have everything needed to entertain and wear out toddlers and young children, but they are also durable and well worth the price.
1. Step2 Naturally Playful Woodland Climber

Plastic playsets tend to stick out like a sore thumb. If you are after something that will blend a little more seamlessly with your backyard aesthetic, this option from Step2, the Naturally Playful Woodland Climber, is a great choice.
The main structure of the set is made to look like natural wood and stone, with muted colors to match. Each side of the "stone" structure features a rock wall for climbing. Inside are two steering wheels, multiple windows, and a fun lime-green floor. This set also features a blue slide and a red ladder, and has an extra-large recess below that can double as a playhouse or covered sandbox.
It's a well-sized playset that is perfect for children 2 to 6 years. It has a maximum weight limit of 240 pounds and can easily accommodate multiple kids, making it an excellent choice for larger families. The set itself weighs 74 pounds.
Assembly of this playset is pretty straightforward and takes under 30 minutes. The package comes in three boxes, which makes transporting the set to the right location a breeze. Once up, it is sturdy, whether on grass, wood chips, or carpet. Like our other choices, it is made of dense plastic that is incredibly durable and weather resistant.
Considering the size and number of fun features, this playset is well-priced. For those looking for a medium-sized playset with multiple activities, this is a great choice.
2. Little Tikes Hide and Seek Playset

If you are tight on space but still need an outdoor set that will entertain young minds, the Little Tikes Hide and Seek Playset is worth considering.
This simple set has a small footprint but still has more to offer than a simple slide and ladder set. In addition to the well-sized slide, this playset includes a beginner climbing wall, multiple windows, and crawl through play zone below.
The small footprint of this set makes it perfect for small yards or indoor use. It is about 4.5 feet long and just about 3 feet high. And it only weighs 24 pounds, which makes it super easy to move around the yard or carry inside and outside.
Of course, that smaller size means that this playset is best suited for very young toddlers. One and 2-year-olds will love it, but kids much older than that will likely be too big to get the full experience.
This muted tan, red, and light green set is much less brightly colored than others, which I like. And with only five pieces, it's much easier to put together than other options. It should easily take less than 15 minutes to assemble.
This Little Tykes set is durable and stands up to weather and sun well. The smaller footprint does mean it is less stable, but this isn't a problem so long as only young toddlers are using it.
For those looking for a bargain, you're going to struggle to find a cheaper, more durable option than this compact set.
3. Step2 Clubhouse Climber Playset

This Step2 Clubhouse Climber Playset is a miniaturized version of what you'll typically find at any neighborhood pocket park.
It features two fun slides, a bridge, and two covered towers that double as playhouses to stoke the imagination. Plus, the entire set is raised off the ground, creating fun crawl-through tunnels below for hours of fun playing hide and seek.
This Step2 set features fun colors without being an eyesore. The kids will love the dual-color green and blue slides and red bridge. And you'll love that all these colors are muted to better match the aesthetic of the typical backyard. In addition to the slides and bridge, this set includes multiple fun bubble windows, a moving steering wheel, and easy-climb stairs.
This is a durable playset that can hold up to 240 pounds with ease. The set itself weighs a hefty 190 pounds and is incredibly stable thanks to the multiple wide-set feet. There is no need to stake down this playset or secure it, so long as it is on a flat surface.
The product comes in two large boxes with multiple large pieces that must be put together, which may be a bit of a challenge, but most people can put it together without issue in under two hours.
This playset sits at the higher end of the cost spectrum for plastic outdoor sets, but it is worth the price for a durable, stable set with multiple fun features your younger kids will love.
4. Lifetime Adventure Tower Playset

The problem with toddler-specific anything is that your kid will outgrow it. If you want a playset your child can use well into their middle school years, the Lifetime Adventure Tower Playset is the only one worth considering.
This set has the look and feel of a true playground. It has swings, a trapeze bar, two climbing walls, an arc ladder, a slide, and a steering wheel. All these features are integrated into a fun tower design with a high, covered lookout area and large playhouse below.
The Lifetime Adventure Tower is rated for children 3 to 12 years of age. But younger toddlers will still enjoy the lower playhouse that can easily double as an ice cream parlor or fort. As they grow, they can continue to master the long list of advanced features without ever getting bored of this set.
This playset is similar to what you might find at a pocket park, with one important difference: it is intended to be a free-standing structure. The wide support legs of the swings and the large tower footprint provide plenty of stabilization and erase the need for concrete or stakes.
This is a large set with a footprint of about 18 by 16 feet. It comes in multiple boxes that are crated together. Assembly takes a full day and requires at least two people, but more is better. Unlike other sets I featured here, this one incorporates metal and plastic components. This adds to its durability and longevity. The only problem we've noticed is a tendency for the raw metal joints to rust.
Overall, this is a great set for entertaining kids of all ages. It costs more than your typical plastic outdoor playset, but it is well worth it for the years and years of use you'll get out of it.
5. Step2 Game Time Sports Playset

For a more traditional take on the plastic outdoor playset, the Step2 Game Time Sports Playset is a great choice.
This colorful set has a small footprint but includes several fun features. In addition to the slide, there is a sloped climbing wall, sensory dials, crawl-through zones, and a basketball hoop. Your little athlete will love dunking their toy ball from the ground or up top. The large crawl-through holes in the bottom can also double as a soccer goal.
At only 24 pounds, this small set can easily be moved between the playroom and the backyard. It is only about 5 feet long and just under 4 feet tall. The manufacturer recommends this playset for kids 2 to 6 years of age. But it is likely to be a bigger hit with young toddlers. Older children will still enjoy the basketball hoop, but may not be as taken with the simple slide design.
With only eight separate pieces, this set is easy enough to put together. It comes in one box with simple assembly instructions. This playset is perhaps a little overpriced considering the size, but given its durability and the fun extra features, it is worth the investment.
With so many different sizes and features available, finding the most suitable outdoor playset to meet your needs can be difficult.
Before you commit to any one product, here are a few things to consider when buying a new playset for the backyard:
Pros and cons of plastic
Suitable age
Ease of assembly
Safety
Let's have a closer look at these considerations.
1. Pros and Cons of Plastic
There is a reason that so many outdoor playsets are made of plastic. This material is durable, waterproof, and lightweight. Plus, it is much cheaper than wood or metal, which means a lower sticker price for you.
Plastic is also available in a wide array of colors. And, unlike wood and metal, it will not splinter or develop sharp points over time. Plastic doesn't require any maintenance or upkeep, either.
Of course, there are also some downsides to choosing a plastic playset. For one, colored plastic tends to fade over time, especially if exposed to sunlight. Because this material isn't easy to paint, you have to live with this sun bleaching.
While the lighter weight of plastic is usually a plus, it can also be a con. Lightweight playsets are more likely to blow over or tip if weight limits aren't followed. Very rough play on top of a lightweight plastic set can also cause stability issues.
Lastly, plastic takes an exceptional amount of energy and creates a lot of pollution to produce. It is made from crude oil, a finite resource with a steep environmental price.
2. Suitable Age
Plastic playsets can accommodate kids of various ages, depending on their size.
Small sets are typically made for new walkers and toddlers. These tend to have simple features like short ladders and slides.
Medium-sized sets can accommodate young toddlers as well as young school-aged children. These tend to have more space above and below for older children to move around. They also tend to have additional features such as steering wheels, climbing walls, and basketball hoops.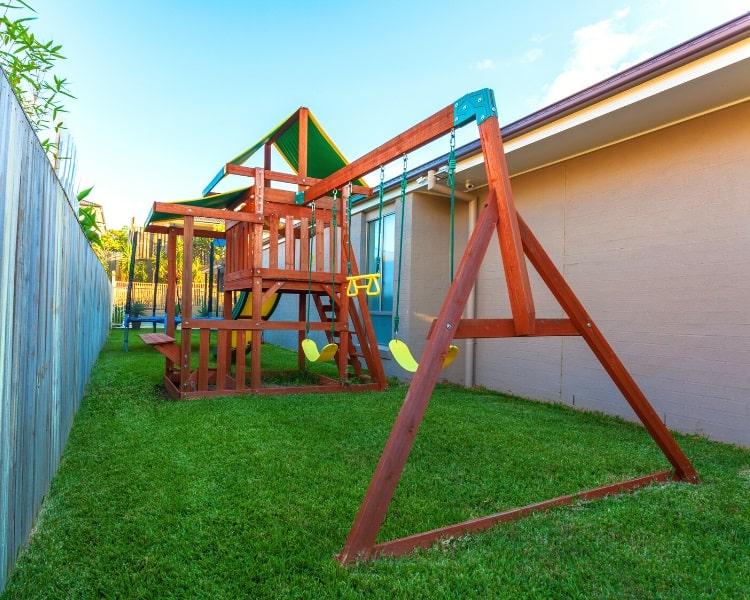 The largest outdoor playsets are made to cover a wider age span. They have some features meant for young kids and others that only older children can enjoy. These more advanced features may include swings, rope ladders, arched ladders, and monkey bars.
The larger and more complex a set is, the more expensive it is likely to be. But these larger sets are also likely to be enjoyed for much longer than the more basic and smaller sets.
3. Ease of Assembly
Another thing to consider before choosing the size of your playset is the ease of assembly.
Small sets may only include 5 or 6 pieces that need to be screwed together. These kinds are often very transportable, so you can easily set them up inside and carry them into the yard.
The larger the set, the more parts it will have and the harder it will be to move around. Assembly time for these can vary from under an hour to a full day of work by multiple people.
4. Safety
Like with true playground equipment, there is always some risk of injury when kids play on outdoor playsets.
In general, small plastic sets are safer than larger ones. Small sets tend to be closer to the ground, and any raised areas are well-surrounded to prevent falls.
Higher sets with more advanced features carry a greater potential for injury, especially when young children attempt features that are beyond their ability.
The most important thing you can do to keep your kiddo safe is to always supervise them when they play on their outdoor playset.