Please note that I may earn a small commission from purchases made through product links in this article. As an Amazon Associate I earn from qualifying purchases.
Last updated: June 20, 2023
A guide with 10 landscaping ideas to repurpose old tree stumps in the garden, from creating furniture to turning them into decorative pieces.
Trees add fantastic value to the scenery in your backyard, regardless of the season. However, there may be a time when you have to cut down a tree, which will leave behind a tree stump.
Most people see tree stumps as useless or perhaps even an eyesore in their garden, but stump removal requires a lot of time and effort.
But before you even think about removing that tree stump from your yard, check out the below inspiring and creative tree stump ideas.
10 Garden Tree Stump Ideas
The following ten landscaping ideas will not only save you time, money, and energy, but they can also add a lot of value to your backyard or garden.
Read our guide to preserving tree stumps to learn more about how to go about this rather challenging yet rewarding task.
1. Forest Furniture
One fantastic way to use a tree stump is to make rustic furniture out of it. You can make chairs, stools, and even tables from a stump. You can shape the furniture in any style you desire and decorate it to your taste.
When making furniture out of tree stumps, make sure that the stumps are of the appropriate size and height. Cutting them can take some effort, but hey, it's free materials for what will turn out to be unique furniture.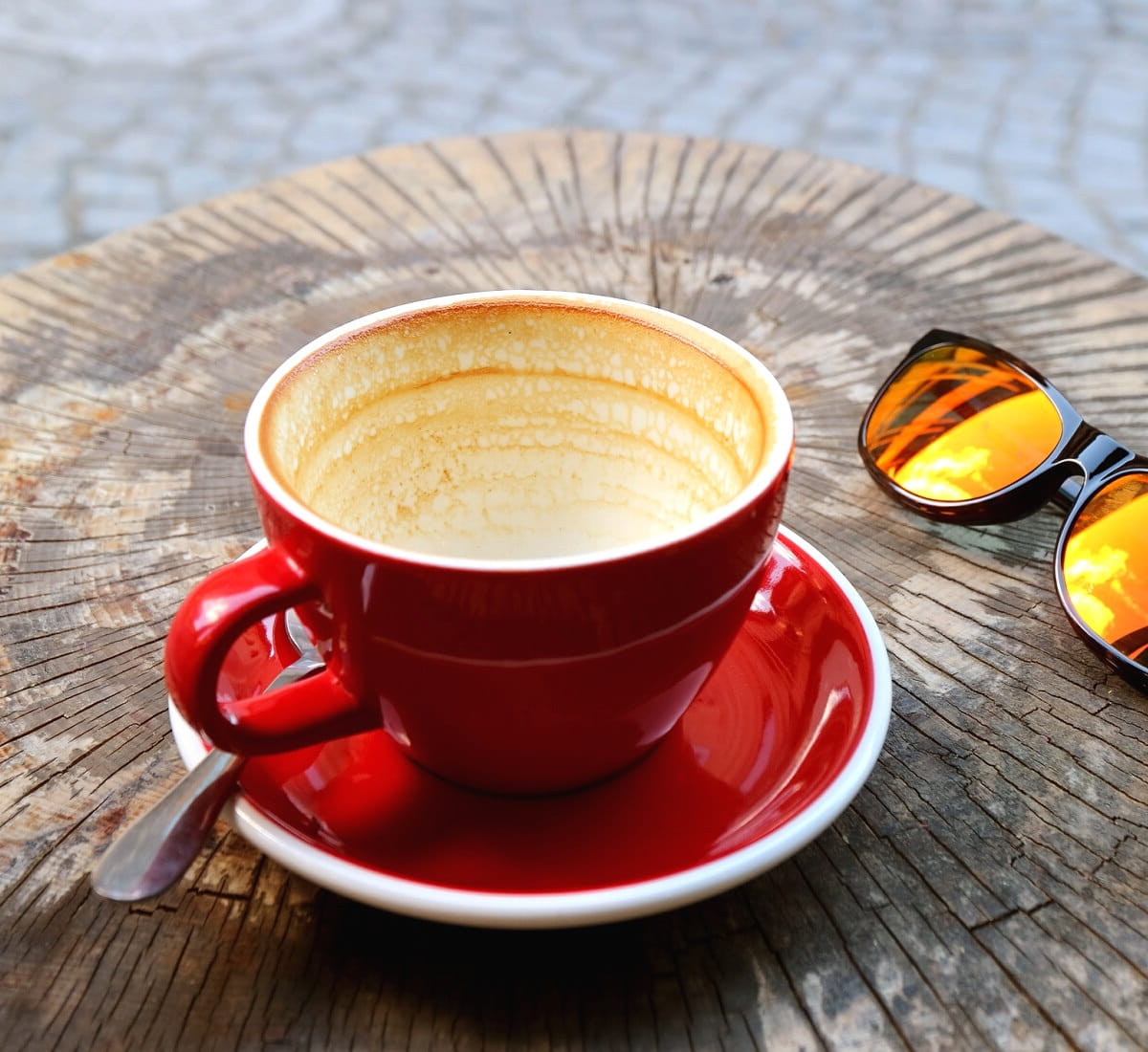 To make a simple stool, all you need is some sandpaper to smooth out the stump and some varnish. For a more decorative and comfortable seat, cut some upholstery foam to match the stump's size. Use fabric to cover the foam and glue or sew the material to the foam's bottom side. Now you have a cushion to glue on the top of the tree stump.
If stools aren't enough, you can accompany them with a table. For a simple polished table, use sanding paper to smooth out the stump and varnish for shine and protection. If you want a tabletop, cut out and sand a round piece of wood, paint it with semi-gloss paint, and drill it to the stump.
Glass can also be used for a tabletop. Just get a glass tabletop from an old patio table or obtain a thick glass piece and cut it to the desired shape and size. Make sure that you only use tempered glass for the custom route to prevent shattering.
2. Bird Bath
If you're looking for a creative way to enhance the natural setting of your yard, why not turn that tree stump into a bird bath.
According to the Texas A&M Natural Resources Institute, birdbaths are among the most popular methods to provide water to animals. They are a great way to attract birds to a birdhouse if you have one in your backyard.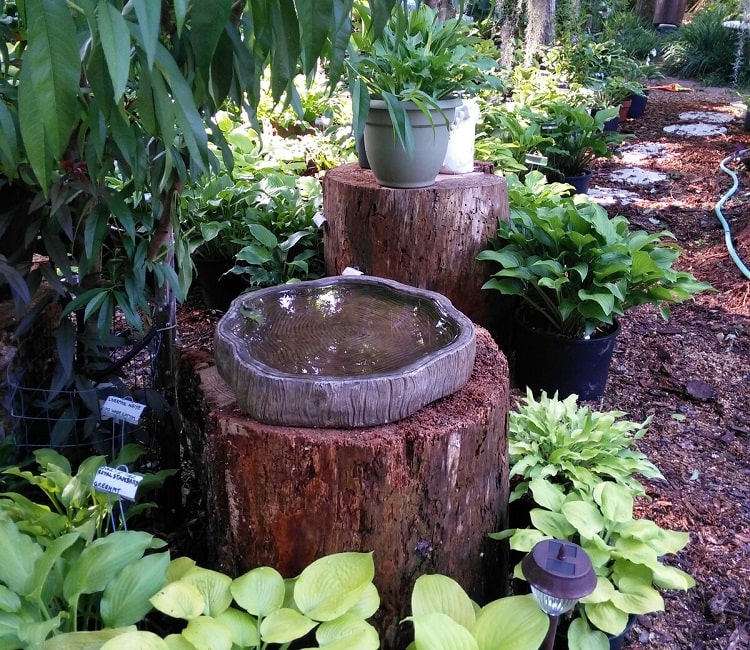 There are various ways to transform a tree stump into a bird bath, but one way is to hollow it and fill it with a concrete bowl.
First, hollow out the tree stump using a drill, a chisel, and a hammer. Next, get some concrete and pour a small amount into the hole you created in the stump. Use a trowel to smooth out and spread the concrete to make the bowl.
Finally, allow the concrete to dry, fill it up with water, and see if the birds are attracted to it.
3. Garden Game Board
Even though kids' current definition of fun centers around technology, you can broaden their definition by creating outdoor fun with a tree stump. Garden game boards are an excellent way for kids to have fun outdoors.

First, use sandpaper to smooth out the tree stump. Then, the top of the stump is ready to be decorated. You can paint a checkerboard design for brain-enhancing games like checkers or chess. For a fun game of tic tac toe, paint a 3×3 grid on top of a stump. You and the kids can paint stones to resemble flowers, bees, or flowers for game pieces.
Once the paint is dry, make sure to coat the stump and the stones with a finishing spray to prevent fading and damage.
4. Create Sculptures
This do-it-yourself project is a great way to bring out your artistic talent, but it does require specific skills.
What you will need is a chainsaw, a marker, a sanding tool, a chisel, some varnish, and most importantly, your imagination. For safety reasons, be sure to wear gloves and perhaps a pair of goggles.
Start by deciding how big you want your sculpture to be by measuring the tree stump. Next, plan out what you want your sculpture to be by using your imagination and making a sketch. The statue can be your favorite animal, a mythical creature, a person, etc. Make sure that the sculpture is not too thin, so it will remain sturdy when completed.
Use a chainsaw to cut the stump into the outline that you want. Then, use a marker to create the details of the sculpture. Use a chainsaw or a small tool such as a chisel to carve in the sculpture's details. Sand away splinters and sharp edges for a smooth finish.
For the final touch, coat the sculpture with some finishing varnish. The varnish will protect the sculpture from heat, wind, and water. Now, you can marvel at your creation!
5. Planter
Amaze your guests by turning your tree stump into a planter. This project is an excellent, simple, and eco-friendly way to plant flowers and greenery.
First, hollow out the top of the stump with a chainsaw, or do it manually with a drill, hammer, and chisel. Next, make a hole 4-8 inches deep with a 3-inch border.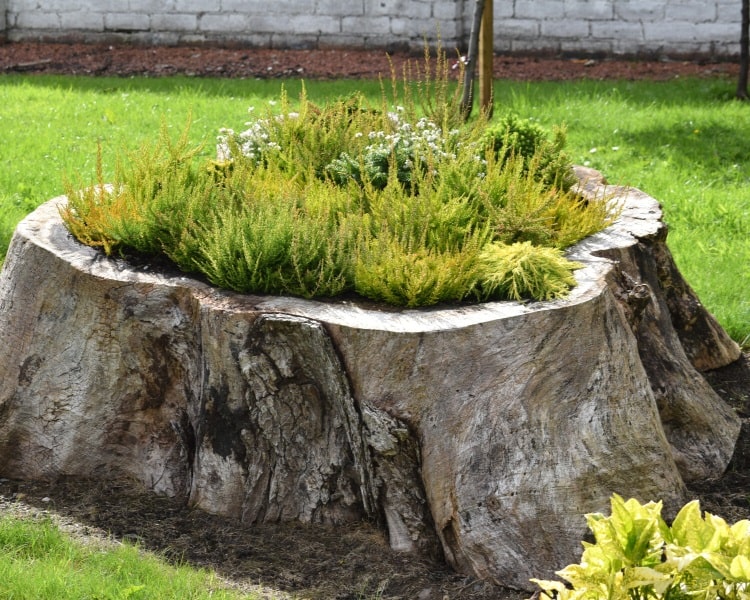 Now, for drainage holes. Use a drill to create the holes in the sides of the stump that slope towards the ground. In that way, the water can easily drain from the holes. Now that the planter is finished, fill it with potting soil that drains well, and then plant your favorite flowers or shrubs.
Read our guide to simple landscaping ideas for the backyard for more great ideas to enhance the visual appeal of your backyard.
6. Nature's Canvas
If sculptures aren't your thing, you can always turn a tree stump into a canvas. The best part is that you don't have to be a master artist to decorate a stump.
Use your favorite color paints to make your designs, use some decorative fabrics, or glue on tiles, beads, shells, buttons, and jewelry for a mosaic look.
7. Pot Stand
If making a planter out of a tree stump takes too much time and effort, there's another way to use a tree stump for flowers and greenery. Just use the stump as a stand for your flower pots.

Whether it's one big pot of flowers or multiple flower pots, this idea is a quick and easy project for your garden.
Apply a varnish or paint coat to the stump to give it a glossy or colorful finish and protect your flower pot stand from rotting.
8. Build a Dog House
Have you ever considered building a decorative dog house in the garden? An old tree stump can make an excellent foundation for a dog house.
Just make sure that the stump is big and sturdy enough to support the dog house to prevent the thing from falling apart in wild weather.
You could even add a little staircase to make it easier for your dog to enter its new garden retreat.
9. A Garden Fit for a Fairy
Fairy gardens are one of the most popular tree stump ideas. Making these tiny and whimsical gardens will provide fun for both children and adults.
If you have created a planter from a tree stump, then that could be the perfect place to start your fairy garden.

Pour some potting soil into the stump planter and add small flowers and mushrooms. You can use moss for grass and add pebbles, shells, and landscape stones for a more detailed garden.
Small garden figurines of fairies, animals, and houses can also be added to give your fairy garden more life.
10. A Home for a Gnome
Want to know why some people have gnome statues in their gardens?
In European folklore, gnomes are small humanoid creatures who spend most of their day hiding underground. At nighttime, they come out of hiding to work in people's gardens and protect the gardens from evil witchcraft.
Why not show your appreciation for a gnome by transforming a tree stump into a lovely home for them? It's a cute addition to your garden.
Use plywood to create the windows, the door, and the roof. Add wood shims to the roof as shingles. You can even accessorize the house with curtains, stones for a pathway, and small plants.
Read our list of garden gnomes for more ideas on how to decorate your outdoor space with gnome statues.
You don't have to remove tree stumps to enjoy your garden or yard. Instead, give them a second life by preserving them and turning them into a decorative piece for your garden or backyard.
The above ten ideas are only the tip of the iceberg. There are so many more things you can do with old tree stumps; all you have to do is put your creativity to good use!